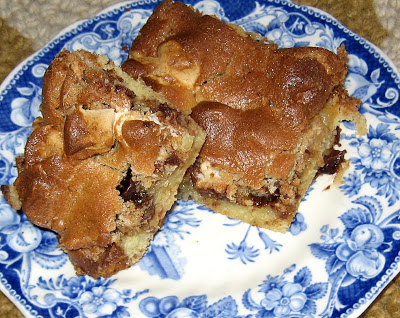 Ingredients:
1/2 cup butter (room temperature)
1 cup granulated sugar
3 large eggs, separated (1 whole egg plus 2 yokes, 2 egg whites)
1 1/2 cups AP flour
1 teaspoon baking powder
1/4 teaspoon salt
1/2 cup semi-sweet chocolate chips
1 cup chopped nuts (I mixed pecans and walnuts)
1 cup mini-marshmallows
1 cup brown sugar (make sure it's soft and clump free!)
1. Preheat oven to 350 degrees.
2. In a medium bowl, cream together butter and granulated sugar. Beat in 1 whole egg and 2 egg yokes (saving the 2 whites for later).
3. In a separate bowl, mix together the flour, baking powder, and salt. Add to butter mixture and combine. Spread into greased 9×13 pan.
4. Sprinkle evenly with chocolate chips, nuts, and marshmallows.
5. In a medium bowl (wipe clean your flour mixture bowl and reuse that!) beat remaining 2 egg whites until stiff peaks form. Gently fold in brown sugar. Spread over mixture in pan.
6. Bake for about 25-30 minutes or until bars are a deep golden brown and the crust is cooked through. Cool on wire rack before cutting.
Source: Sunday Baker