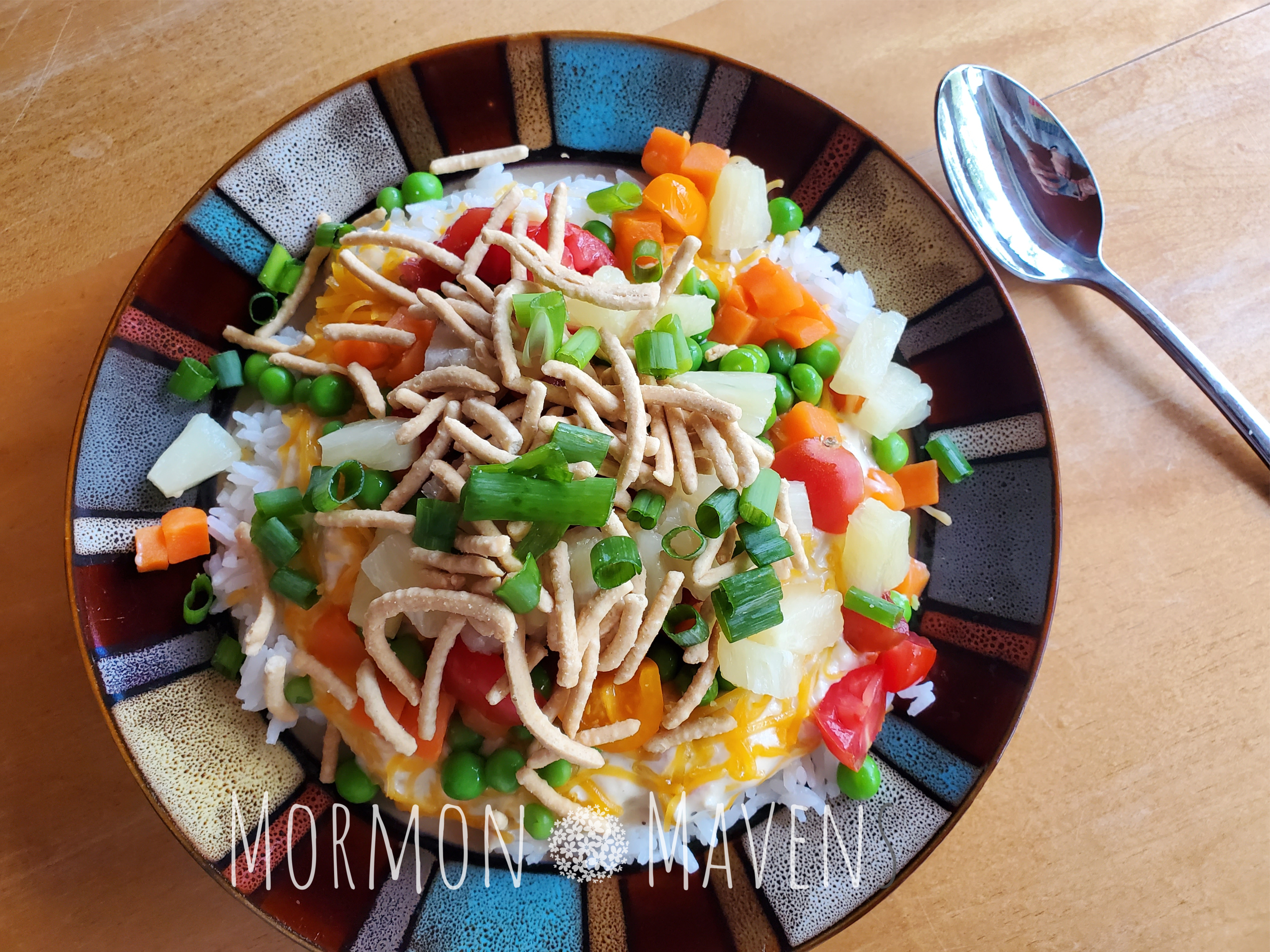 Way back when our recipe blog first began, a recipe for Hawaiian Haystacks was posted by one of our original recipe authors, Kara. It was one of our most viewed recipes so I figured it was time to post another version of it and, I must say, I'm pretty in love with this one. Fortunately, it's a bit quicker than other recipes, but just as delicious!
My family tried this recipe out recently during a weekend trip to a VRBO in Virginia. Although the pics aren't great (dark and small kitchen) the dish was still delicious. No pressure cooker so I cooked the rice the old-fashioned way on the stove top. Either way I think that the timing–starting the rice then prepping the chicken/gravy and toppings while the rice cooks–works out about the same.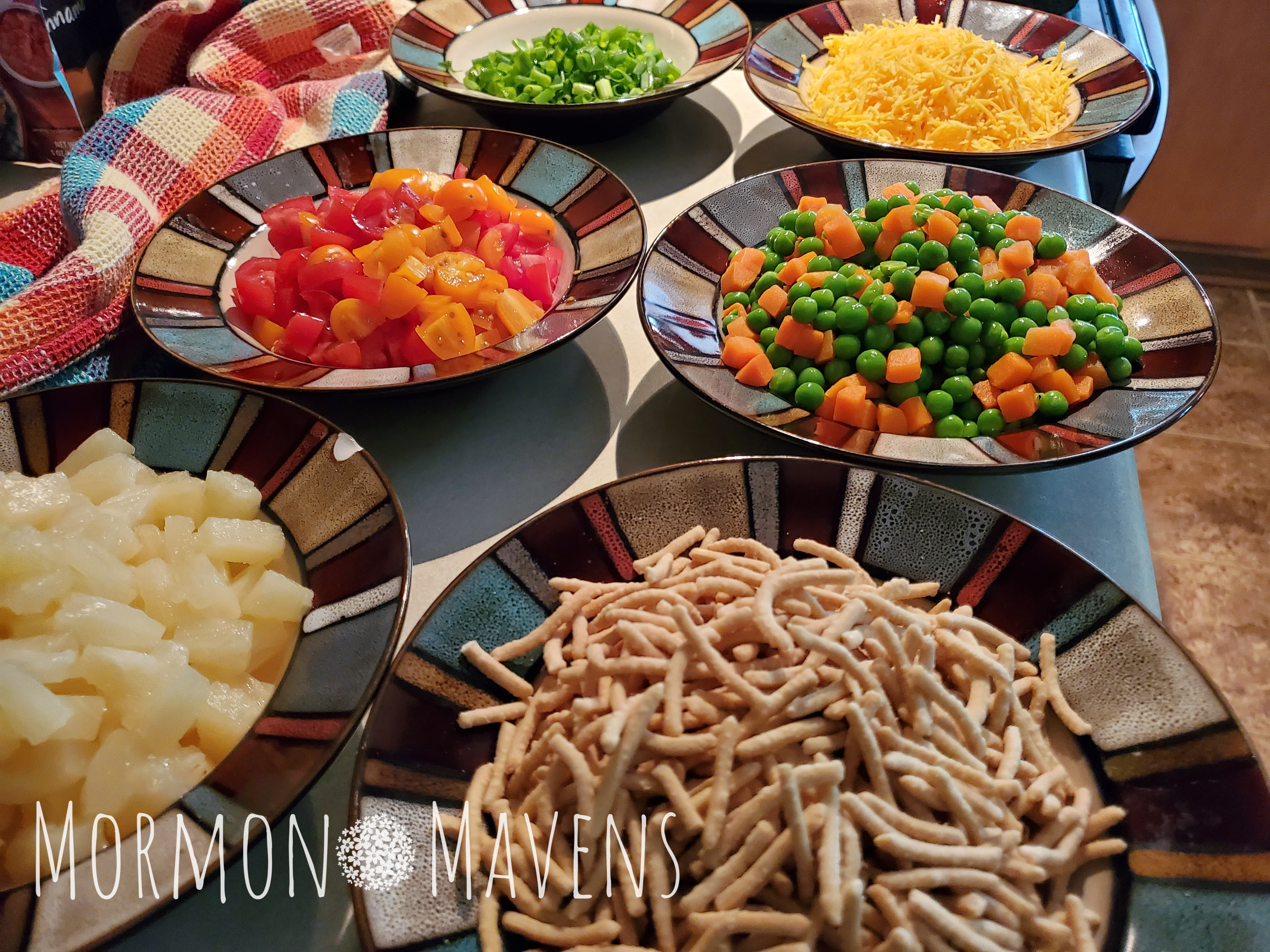 I'm a big fan of rotisserie chicken for convenience and flavor, so when I saw a recipe using it as the chicken base I knew I had to try it. I tweaked a few things to make it fit my family and my preferences and I invite you to do the same. Make it your own by incorporating toppings your family loves!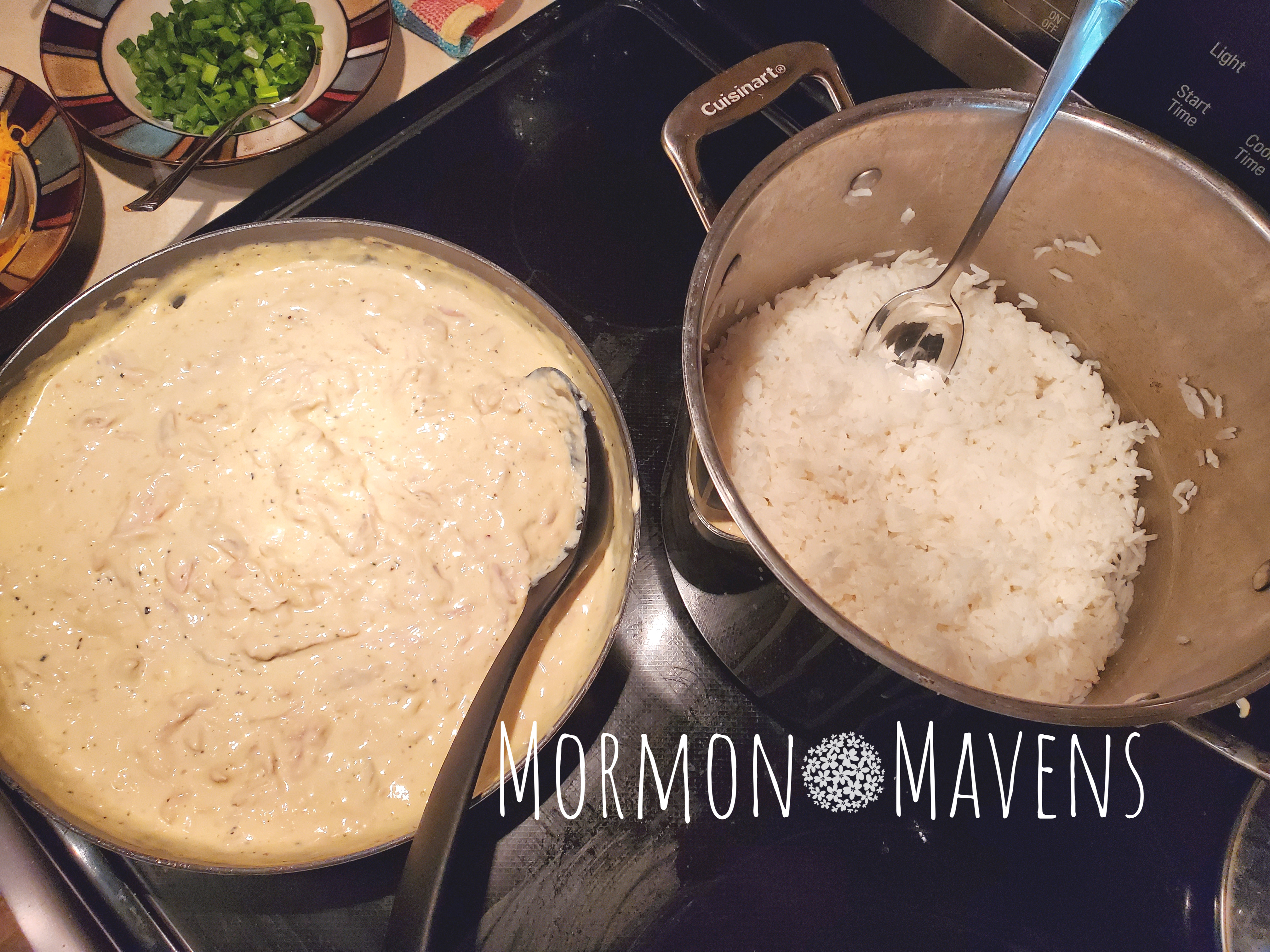 Jasmine rice is my very much preferred choice for just about anything rice-related! And I really like to use my pressure cooker for it. But you could use leftover rice from another meal (I often will make way more rice than I need so I can use it for other meals). Because there are so many rice options (leftovers, minute rice, pressure cooker, stove top, microwave rice) I have not included rice cooking instructions. So just make whatever rice you want in whatever method you want. Just use your judgement here: if you are "long" cooking (pressure cooking or stove top) start the rice first then do the rest of the ingredients. If you are using a "quick" cook (leftovers warmed up, microwave, minute, etc). Do that at the end. See, it's versatile!
Now, as for toppings…I've only listed what *I* like. Many people include sliced black olives but I don't because, gross. From Kara's original recipe, she also lists diced celery, sunflower seeds, slivered almonds, and sliced water chestnuts. But you do you…..do whatever toppings float your boat, tickle your Elmo, etc. By the way, you can find crunchy chow mein noodles in the Asian aisle at the grocery store.
So, what are your favorite toppings for Hawaiian Haystacks?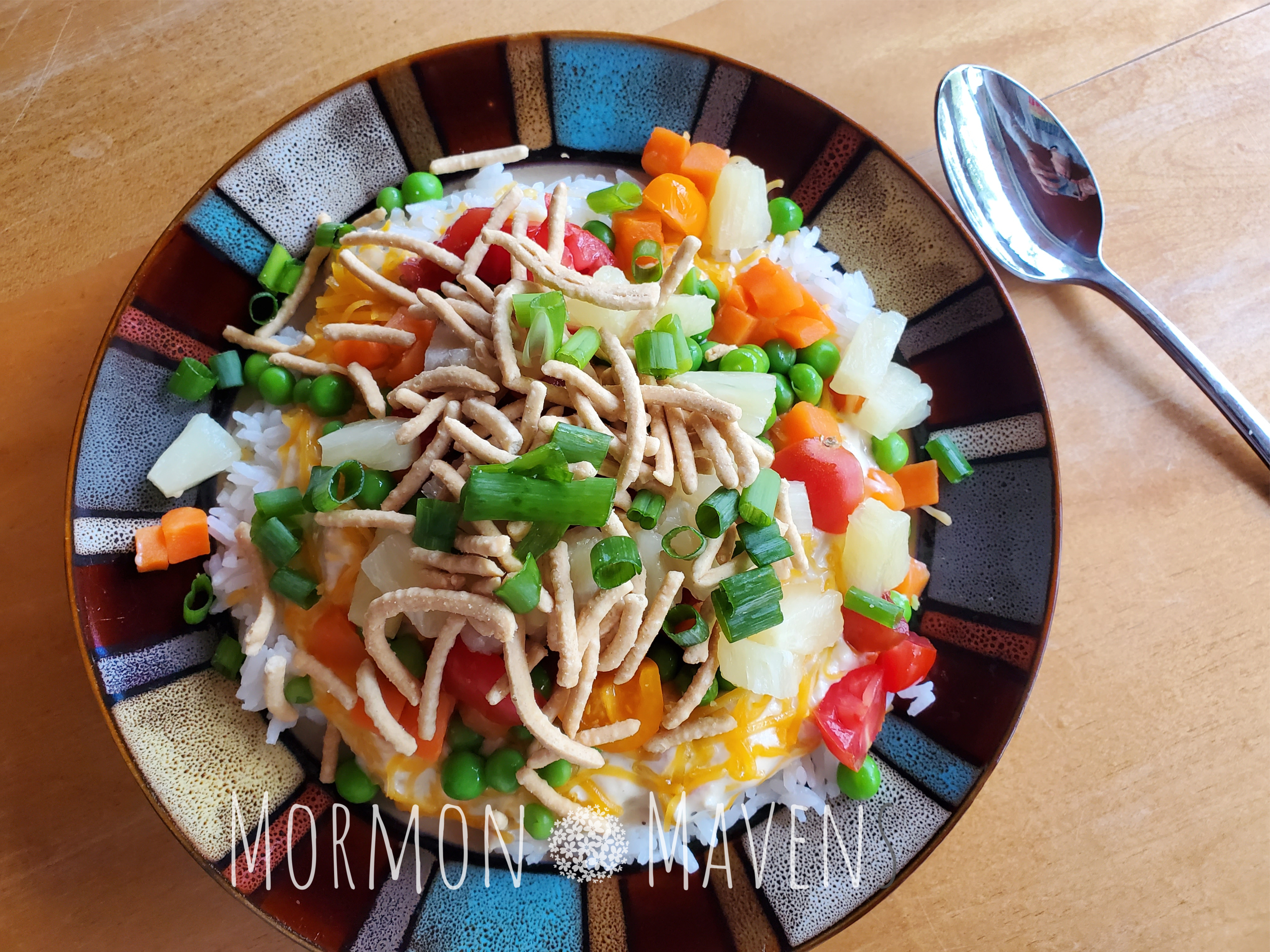 Hawaiian Haystacks
2019-10-21 12:33:14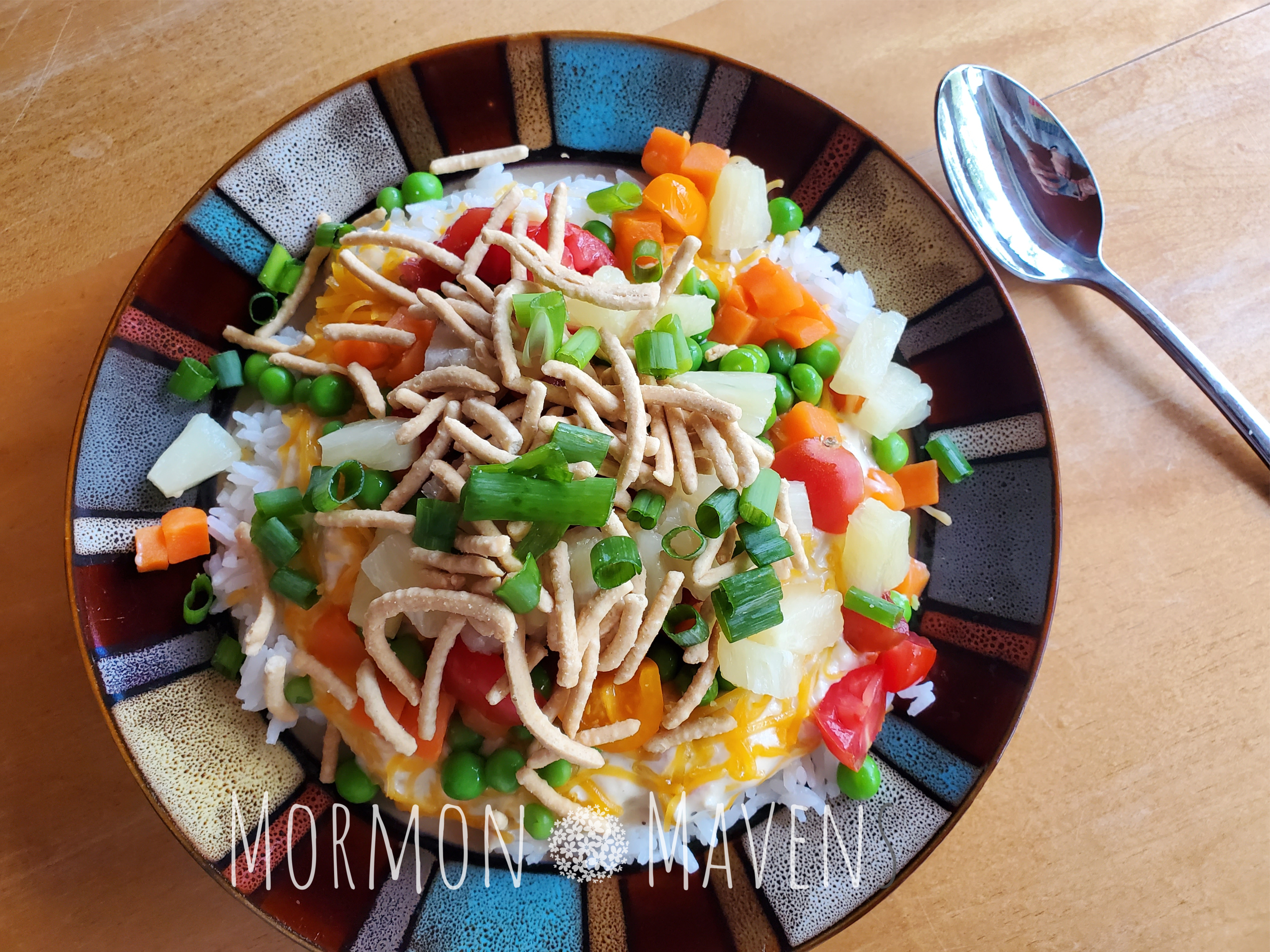 Jasmine rice topped with rotisserie chicken and gravy and then topped with whatever yummy toppings you want! It's a delicious, quick dinner!
Ingredients
6 cups of prepared jasmine rice (start cooking first, then prep the rest)
4 cups of shredded rotisserie chicken
2 (10.5 oz) cans Cream of Chicken soup (with or without herbs)
8 ounces sour cream
1/2 cup milk
Toppings
shredded cheddar cheese
canned pineapple tidbits, drained
peas and carrots (from freezer section....thaw)
diced green onions
diced tomatoes
crunchy chow mein noodles
Instructions
Prepare your rice on the stove top (follow directions on rice package...1 cup dry=3 cups cooked)) or pressure cooker (follow directions for appliance).
While the rice is cooking, add the chicken, soup, sour cream, and milk to a large skillet and heat over medium heat, stirring often. Remove from heat when it's well-combined and heated through.
As the chicken mixture is heating through, prep your topping ingredients and place them into individual bowls or into a serving platter that has separate divisions for toppings.
When the rice is done cooking, remove from heat and fluff with a fork.
Set your items up buffet style and let everyone build their own custom haystack.  Start with rice, then add the chicken gravy, then cheese (so it will melt), and whatever else your little heart desires!
Mormon Mavens https://www.mormonmavens.com/