This is a
General Conference
tradition at our house. It is mui bueno! Mr. Blue Eyes also informed me that 1/8 Cup (including 4 chips) has about 200 calories in it–the same as 1 Glazed Krispy Kreme doughnut. If you're going for Quality Calories, EAT THIS! If you're going for SWEET with zero nutritional value, eat the doughnut (I'll be with you!). 🙂
Ingredients:
2 Cans Refried Beans
4 Mashed Avocados
Lime Juice to taste–about 4 Tbsp
1 Cup Sour Cream
1 Cup Mayonnaise
1-2 Packages Taco Seasoning (I only use one, but know others who use two)
4 Cups Shredded Colby-Jack Cheese
1 Bunch Green Onions
4 Chopped Tomatoes
Your Family's Favorite Tortilla Chips
1. In an 11×15″ cake pan, spread the refried beans over the bottom.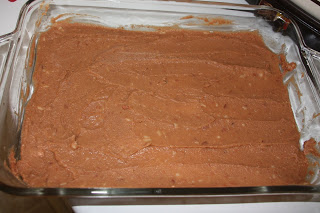 2. Mix your mashed avocados and your lime juice together. Plop it (or
this fabulous Guacamole Dip
!) onto the refried beans…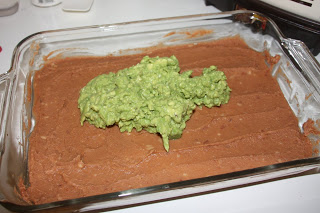 …and spread it over.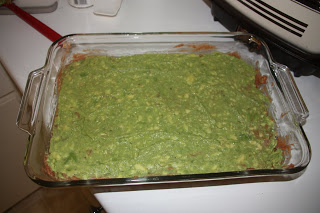 3. Mix the sour cream, mayo, and taco seasoning in a small bowl…
…then spread it over the guac.
4. Spread the cheese over the sour cream–use as little or as much as you like!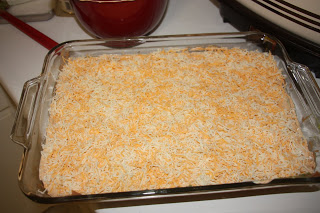 5. Add your veggies* and serve with your favorite Tortilla Chips. We like any Scoop variety.
Serve immediately. Refrigerate any left overs (or if you're not serving it until later).
*This recipe is so versatile that you can make it as simple or as glorified as you want. I've had several different kinds of veggies (peppers, olives, etc.) and haven't had a bad combo yet!
Source: My variation of a family friend's recipe
~Kara