This lemon bundt cake is by far one of the favorites in my family. For sure we have it atleast three or four times a year. (This is THE birthday cake for my grandma, husband, brother, and often times my mom) It is so easy, but tastes super impressive. Your guests will never know that it's a jazzed up cake mix!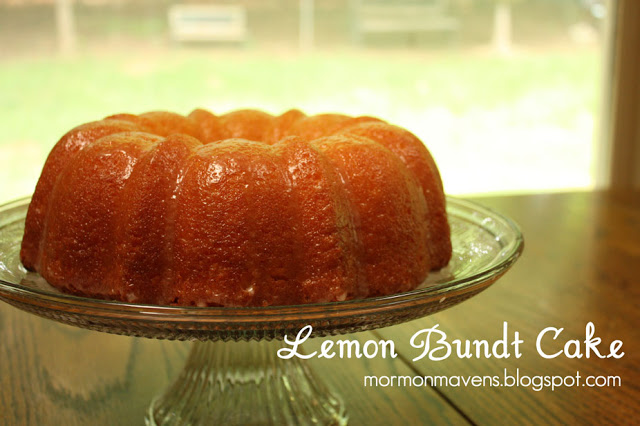 Lemon Bundt Cake
Ingredients
Cake:
Duncan Hines Lemon Supreme Cake Mix
¾ cup oil
4 eggs
1 large or 2 small boxes lemon jello
1 cup cold water
1 grated lemon rind (finely grated) (at least 1 tsp)
Glaze:
1 cup powdered sugar (sift so there are no lumps) ¼ cup lemon juice stir until smooth
Directions
1. Mix according to cake mix directions.
2. Pour into well greased and floured Bundt Pan.
3. Bake at 350 degrees for 40 minutes or until toothpick comes out clean.
4. Turn out unto serving plate.
5. Poke holes in cake with skewer and pour glaze slowly over cake while cake is still warm. I actually cover the entire cake surface using icing on the back of a spoon or after all these years use a pastry brush and brush it on!!
*** MUST spray bundt pan with Baker's Joy or grease and flour! *** It will stick in the pan if you just use Pam!

Source: My momma!