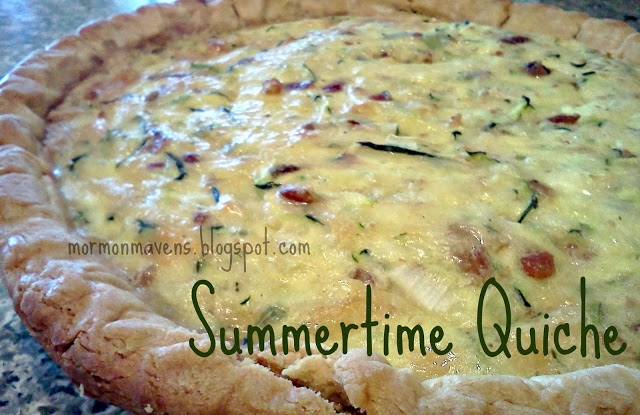 Summer is quickly coming to a close here in Idaho. But before I start posting my fall/winter recipes, I gotta post another recipe that uses zucchini and squash. I think this will be the last one with either of those ingredients for a while, at least I hope.
Oh and another thing. I am all about home made. I am kind of a snob when it comes to home made vs. store bought items. However, I have been trying to simplify and one way that I have, is to buy pre-made pie shells for this recipe (cringe!) I have the best home made pie crust recipe but I have accepted the fact that it is okay to buy pre-made pie shells every once in a while.
I love quiche. So versatile. This was a good way to use up some zucchini that I had lying around. You can also use summer squash, etc. Here is how I made this one:

Summertime Quiche

1 deep dish pie crust
4 eggs
1 C. Half and half
1 C. Shredded zucchini
1/4 C. chopped green onion
1/4 C. Crumbled bacon
1- 1 1/2 C. Shredded Cheese (I used half monterey jack half swiss)
Salt and Pepper to taste
Fresh grated nutmeg (optional)
Preheat oven to 450. Lightly cover the pie shell with foil. Bake 8 minutes, remove foil and back another 5 minutes or so. Remove from oven.
Meanwhile in a large bowl, beat eggs and half/half. Stir in the remaining ingredients. Pour into the warm pie shell. Use a pie saver or foil to cover the edges of the crust. Place in the oven, reduce temperature to 350 and bake until a knife inserted comes clean, about 30-45 minutes. Let rest little bit before cutting.