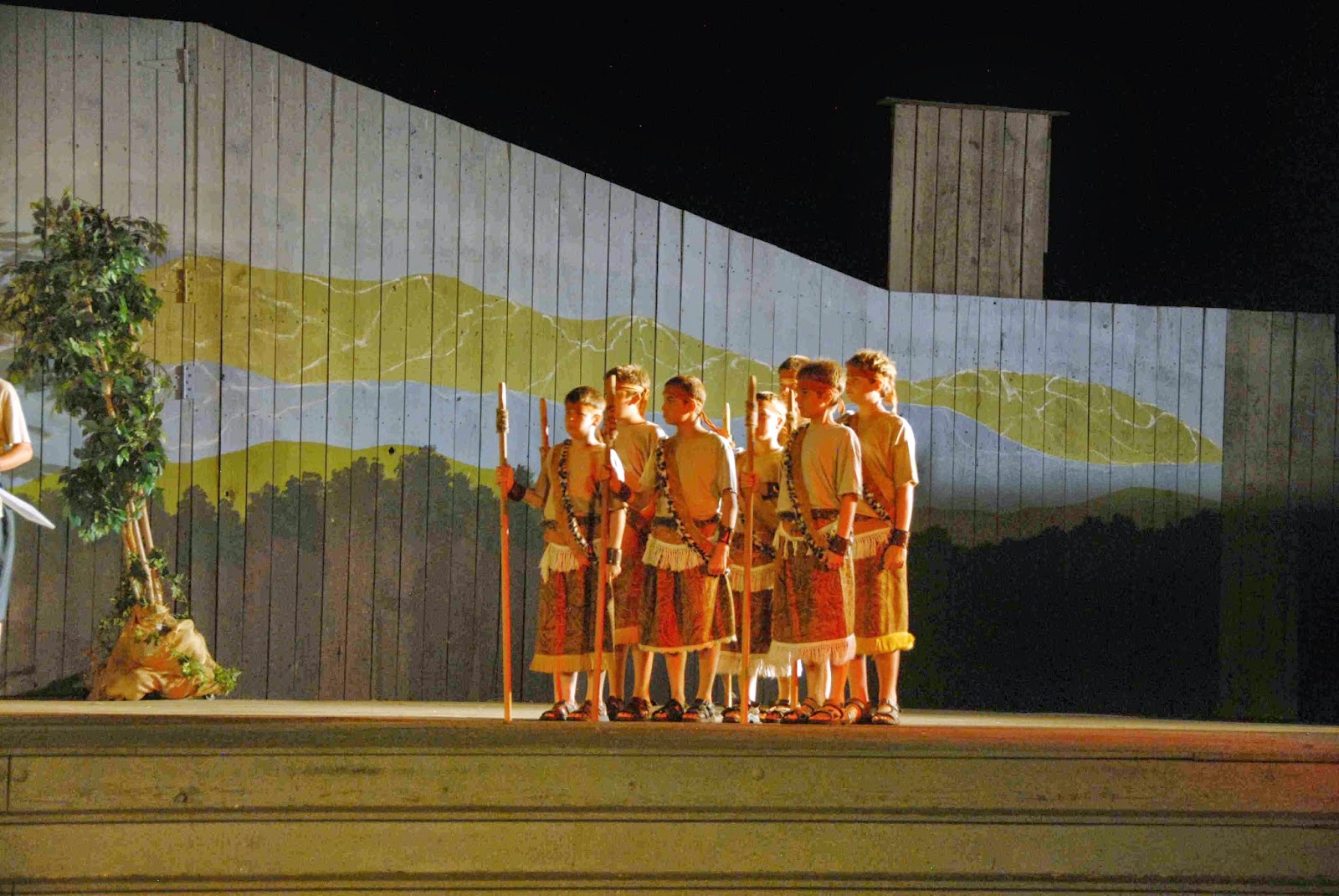 My family has participated in an LDS outdoor drama for the past 6 years. There are a couple of scenes from the Book of Mormon, one of which involves the stripling warriors–a group of 2,000 young men who were valiant and courageous. The first couple of years we were in the pageant, my son Spenser was not tall enough to play the part of a warrior. How blessed the day when he reached the height needed to play that part! This is a picture from last year's pageant. Spenser is second one from the right. He was much taller for the part this year!
From the Book of Mormon, the prophet Alma states, "Yea, and they did obey and observe to perform every word of command with exactness." (Alma 57:21). Is that not a mother's dream come true for her children?
M. Russell Ballard: "This was an extraordinary task for a group of 2,000 young men, but they were extraordinary young men. According to the scriptural record: "They were exceedingly valiant for courage, and also for strength and activity; but behold, this was not all—they were men who were true at all times in whatsoever thing they were entrusted.
"Yea they were men of truth and soberness, for they had been taught to keep the commandments of God and to walk uprightly before him" (Alma 53:20-21)
The rest of the story tells how these young men fought valiantly against the much older and much more experienced Lamanite army. Acccording to their leader, Helaman, "They….fought as if with the strength of God;….and with such mighty power did they fall upon the Lamanites, that they did frighten them; and for this cause did the Lamanites deliver themselves up as prisoners of war" (Alma 56:56)
Imagine that? These inexperienced young men were so spiritually and physically prepared, and so powerful, that they frightened their foes into surrendering. Although all 2,000 of the young men were wounded in battle at one time or another, not one was killed (see Alma 57:25). Again quoting Helaman, "And we do justly ascribe it to the miraculous power of God, because of their exceeding faith in that which they had been taught to believe—that there was a just God, and whosoever did not doubt, that they should be preserved by his marvelous power" (Alma 57:26)
…today we are fighting a battle that in many ways is more perilous, more fraught with danger than the battle between the Nephites and the Lamanites. Our enemy is cunning and resourceful. We fight against Lucifer, the father of all lies, the enemy of all that is good and right and holy…
This isn't a time for spiritual weaklings…As an Apostle of the Lord Jesus Christ, I call upon you to begin right now—tonight—to be fully and completely worthy. Resolve and commit to yourselves and to God that from this moment forward you will strive diligently to keep your hearts, hands, and minds pure and unsullied from any kind of moral transgression." ("The Greatest Generation of Missionaries." Ensign, Nov 2002, 46)
Ezra Taft Benson: "You are to be the royal army of the Lord in the last days. You are "youth of the noble birthright." (Hymn, 1985, no. 255)
In the spiritual battles you are waging, I see you as today's sons of Helaman. Remember well the Book of Mormon account of Helaman's two thousand stripling warriors and how the teaching of their mothers gave them strength and faith. These marvelous mothers taught them to put on the whole armor of God, to place their trust in the Lord, and to doubt not. By so doing, not one of these young men was lost. (See Alma 53:10-23; Alma 56:41-56) ("To the 'Youth of the Noble Birthright'," Ensign, May 1986, 43)