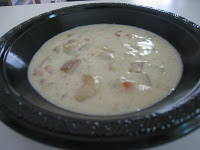 This chowder takes me back to the days we lived in Monterey, California. As newlyweds, my husband and I would hang out at the wharf and feed the sea lions and enjoy free samples of the many varieties of clam chowder. This one is a definite winner. The secret is in baking the butter and flour mixture.
Ingredients:
1 cup red potatoes, finely diced
1 cup celery, finely diced
1 cup vidalia onion, finely diced
1 cup red pepper, finely diced
1 cup leeks, diced
3/4 cup clams, chopped
3/4 T. freshly ground black pepper
1 1/2 t. salt
3/4 t. thyme, crushed
6 large bay leaves
1 t. Tabasco sauce
3/4 cup beef or chicken broth
2 cups water
3/4 cup clam juice
1 1/2 sticks butter, melted
1 cup all purpose flour
2 qt. half and half
Directions:
1. Combine melted butter and flour in oven-proof container and bake at 325 for 30 minutes.
2. In large saucepan, combine remaining ingredients except half and half. Simmer until potatoes
are thoroughly cooked.
3. Stir butter-flour mixture into chowder and stir until thick. Mixture will be slightly less thick
than cookie dough.
4. Remove chowder from heat. Stir in half and half until blended. Heat to serving temperature,
stirring occasionally.
***I like to add more potato and sometimes carrots and mushrooms. For this particular go 'round I added a pound of shrimp. Yummers!
Source: passed to me from my good friends, The Streubers