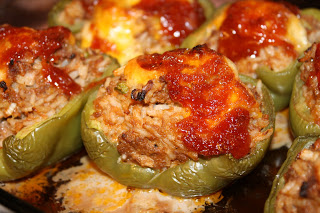 Looovvvee these! (in my singing voice) These are easy and yummy! You can add anything to this recipe! Its soo good! Try it!
1/2 lb lean ground beef
1 c rice, cooked
1 small onion, chopped
1 egg
1/4 c green bell pepper, chopped fine
1/2 c – 3/4 c Italian flavored bread crumbs,add as desired
1/2c Sweet Baby Rae's BBQ sauce, or your favorite
1/2 c cheese, cheddar or colby jack
salt
pepper
dash of worcestershire sauce
4 green bell peppers, halved, and cleaned
Sauce:
1/2 c Sweet Baby Rae's BBQ sauce
1/2c ketcup
1/2c-3/4c brown sugar
8 thin rectangular slices of cheese, big enough to cover the pepper
Boil a pot of water. When water begins to boil, add the halved bell peppers. Cook just to soften a bit. About, 5 min. Take them out of the water and let them cool.
In a mixing bowl, add the above listed ingredients and mix well. You may need to add more bbq sauce if mixture is to dry. Spoon the ingredients into each halved pepper and place in a baking dish. Add to the bottom of the baking dish 1/4 c water. Cook the peppers in a 350 degree oven for 35 min.
Remove baking dish from oven and spoon sauce over peppers. Add a slice of cheese on top of each pepper. Spoon a little bit more sauce over the cheese. Place back into the oven and bake for another 5-7 min or until the cheese is melted good.
*Obviously, you can also cut the top off of the pepper, clean it out and stuff the whole thing. But, so the peppers stretch farther, and so my kids can not be stressed out about seeing an entire bell pepper sitting before them to eat, I cut them in half.