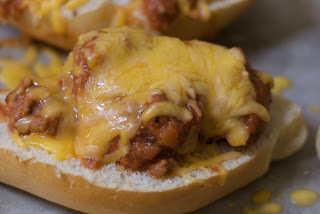 Mr. Blue Eyes and I love these sandwiches! The meatballs are pretty run of the mill, but I love something that can be used in many recipes and stores or freezes easily. Sometimes I make the meatballs and freeze them for later use. SO great!
Ingredients for the Meatballs:
1 lb Ground Beef
1/4 C Bread Crumbs (we use Italian Seasoned)
1 egg
2 Tbsp finely chopped onion
1 clove garlic, minced
1/2 tsp salt
1/8 tsp ground pepper
Additions for the Sandwiches:
1 (32 oz) Jar of your favorite Spaghetti Sauce (We use Classico, Tomato and Basil)
3-6 Hoagie Rolls (We slice three, and eat them open)
Shredded Cheddar Cheese (Mozzarella is great, too!)
1. Preheat the oven to 400 degrees F.
2. In a Medium sized mixing bowl, mix all the Meatball ingredients together by hand.
3. Roll into balls. I make mine with a cookie scoop–heaping.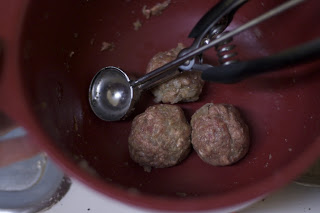 4. Place about 1″ apart on a cookie sheet. (We use lean meat. If you use higher fat content, you may want to put these in a cake pan.)
5. Bake for 10 – 13 minutes.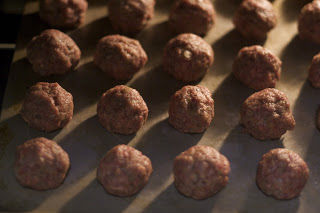 6. After removing the meatballs from the oven, turn it to Broil–500 degrees–and move your rack up to the highest setting.
7. After letting them cool a bit (or not–depending how rushed you are. Just be aware that they may break a little if you handle them too much when they're hot.), add them with your spaghetti sauce in a sauce pan. Warm them up over Medium heat, about 3 – 5 minutes, stirring gently.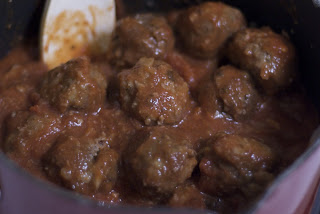 8. Halve your hoagie rolls lengthwise, place them on a cookie sheet, and spoon some meatballs over the bread BOTTOMS (if you're going to Sandwich it. We do tops and bottoms because we eat them open)–enough to get a bite of meat when you chomp into it.
9. Sprinkle some cheese over each sandwich half and place on the top rack under the broiler until the cheese is nice and melted, about 3 minutes. (Don't over bake!!) Serve hot.
Source: A family recipe
~Kara