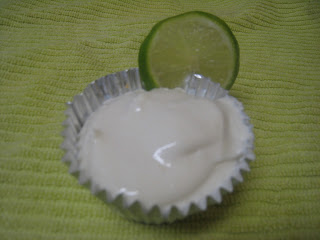 Anything key lime takes me back to the Keys of Florida or to the Caribbean for that matter, back where everybody says, "Everything is ire (i ree) or in other words, "Life is good, no worries".
Ingredients for Crust:
3/4 c. graham-cracker crumbs
1/4 c. finely chopped pecans
3 T. unsalted butter, melted
Ingredients for Filling:
8 oz. reduced-fat cream cheese, softened
1 can (14 oz) sweetened condensed milk
1/2 c. bottled Key Lime juice
1 container (8 oz) frozen whipped topping, thawed
Lime slices, optional
Directions:
1. Line 12 cupcake cups with foil liners. In bowl, stir together graham cracker crumbs, pecans, and melted butter. Spoon 1 T. mixture into each liner, pressing it down to form crust.
2. In large bowl with electric mixer on low speed, beat cream cheese about 30 seconds, or until creamy. Add condensed milk and Key Lime juice, and blend on medium speed 20 to 30 seconds, or until just combined. Add 1 cup whipped topping and blend on low speed 15 seconds longer.
3. Spoon mixture evenly into liners. Cover pan with plastic wrap and freeze at least 3 hours, or until firm. Remove from freezer 15 minutes before serving; peel off liners and dollop 1 T. remaining whipped topping on each pie. Top with lime slices, if you like.
Source: Quick and Simple