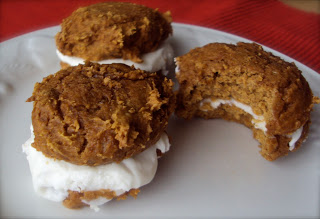 Let me begin by saying that this recipe was created after I tried THIS recipe by our very own Kara. Can I say YUM!!! It turned out we wanted more and the only box of cake mix I had was Spice Cake. Hmmm…I thought. And then remembering a cake recipe my sister gave me I decided to give it a shot!
Ingredients:
1 box of Spice Cake mix (I used Duncan Hines)
Preheat oven to 350*
Mix together the cake mix and canned pumpkin
Drop by spoonfulls (about 1T) onto a cookie sheet, slightly flatten
Bake 7-10 min, remove from oven and cool completely
Frosting:
4 oz Cream Cheese, softened
1/2 Stick (1/4 Cup) Butter or Margarine, softened
2 – 2.5 Cups Powdered Sugar
Mix all the ingredients together until nice and creamy

When the cookies are completely cooled, smother the frosting between 2 cookies and…voila! A fall version of the "oreo"!