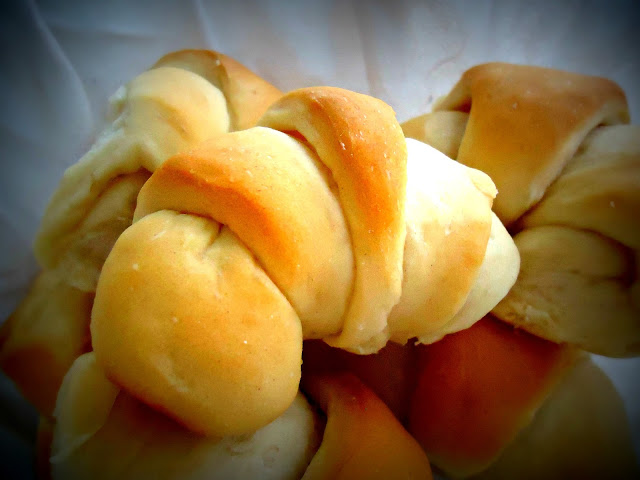 For my first recipe post I thought I would share one of my families favorite recipes. Growing up we had these almost every Sunday. They are light, buttery, and melt in your mouth. Enjoy!


Mix together and set aside.
Mix above ingredients with 4 cups flour. Add yeast mixture and 1 cup HOT water. When mixed well add 4-6 cups flour, if the dough is too sticky (I like mine to pull away from the sides of the mixer but still stick to my finger) add flour ¼ cup at a time. Knead for 2 min on medium speed. Let rise until double. Punch down and let rise until double again. Punch down then

separate

into 4 equal parts. Roll 1 part of the dough into a circle.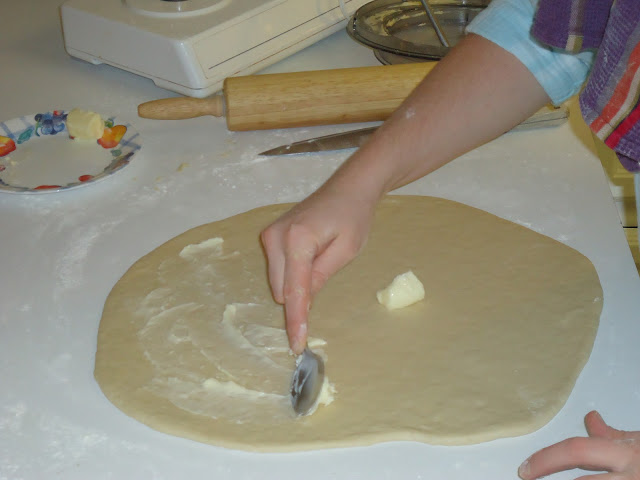 Spread about 2 T.
of softened butter onto the dough.
Cut the dough into 12 wedges
.
Roll each wedge from the outside towards the center to create a croissant shape (My kids love to help me with this). Repeat with remaining dough.
Place 2 dozen rolls on a cookie sheet (this recipe will fill 2 sheets) cover and let rise until double again.
Bake at 350 for 12-15 min, or until golden brown.
NOTE: This recipe works well for cinnamon and orange rolls. Instead of rolling into circles roll into rectangles and fill with either of the following:
1 stick melted butter 1 stick melted butter
1 c. brown sugar 1 c. sugar
1 t. cinnamon 1-2 t. orange zest
Top with cream cheese frosting Top with orange frosting.