I found this recipe for pork rub on a little sticker attached to a pork loin roast. After trying it, I just
couldn't
let it go undiscovered! Great for roast or chops.
The Rub:
1/2-1tsp ground pepper (depending on how spicy you want it)
2 tsp each: dried basil, rosemary, thyme
2T Grated parmesan cheese
1/4 tsp each: garlic powder and salt
Combine all of the ingredients together in a small bowl and apply liberally to all surfaces of your pork. The first time I used the rub, it was on a pork loin roast. I had just enough to cover the whole thing. When I made these chops, I doubled the rub recipe. It seemed there was more surface area to cover since I was working with the front and back of each piece. Now here's where you can choose your own adventure!


If you plan ahead and have some time before dinner: Place the pork chops in a 9×13 dish with a splash of water in the bottom, cover tightly with foil and bake for about 3 hours at 300*.
Now, I know some will warn you not to cook them too long for fear of drying them out. I will say this: If you're foil is on tight, and your temp is not too high. They will be juicy, slow cooked chops. The longer they bake the better, if you ask me. They were falling to pieces! Mmmmm! And the flavor? WOW!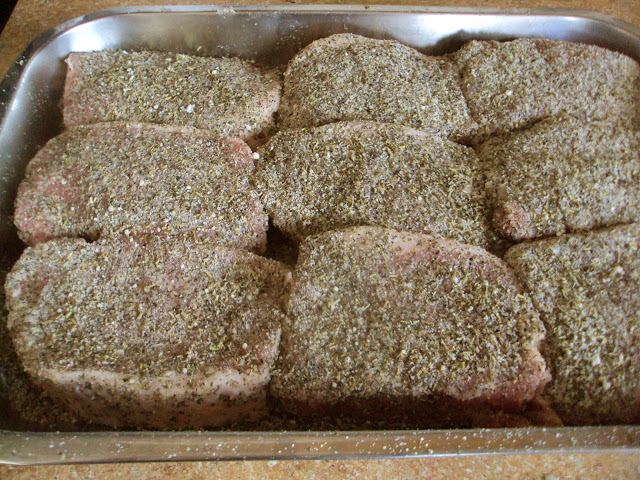 Or, if you're ready to get dinner on the table sooner than later: Let the pork rest with the rub on it, preferably in the fridge, for about 10 minutes or so. It just gives the pork juices a chance to mingle with the spices. Then…I used my marvelous grill pan (any pan will do) to sear the flavors and juices into the pork. About 3-5 minutes on medium heat on each side. Then another 10-12 on each side to cook through (internal temp. should read between 140-160. I always shoot for 160).