Hey, the kids are home for the summer ! Here's a recipe–originally posted by Julie on November 21, 2016–that you can do together and it's sure to please everyone at your house. I'm thinking I might need to try this one soon…
You know those videos you see on Facebook? The ones where they show amazing food? Well, I save those. And sometimes I actually make the recipes! But this one…this one was different.
A Food Network dude was talking about one of his favorite places and that they served these Pizza Pot Pies. I was drooling! I mean, they looked amazing. But hey, this place had some kind of Sicilian crust thing going on and, of course, a fancy restaurant oven. I can't make that at home, can I?
Challenge accepted.
I had to work with what I had. So I took some poetic license with their concept. With the crust. With the oven. With the name, even.
But the result was, well…..UH-MAZING!!!
These things are the bomb at my house–every single person in my family loves them. And, they are so customizable! Plus, they are fun to experiment with.
Adjust your cheese, sauce, and toppings to fit your mood, taste, or leftovers in the fridge! here's what I used to make the above 3 experiments:
Philly Cheesesteak: leftover flank steak, provolone cheese, Thrive Bechamel sauce, Thrive red peppers, Thrive green peppers, Thrive onion slices
Chicken & Broccoli Alfredo: mozzarella cheese, grated Parmesan, Thrive Seasoned Chicken Slices, Thrive Broccoli, Thrive Onion Slices
Meat Lovers: mozzarella cheese, bacon, diced pepperoni, Thrive Sausage Crumbles, Thrive Ground Beef
I can see my oldest daughter wanting an experiment with pineapple and ham. And I'd love to give a dessert pizza a try maybe with some ricotta and cream cheese, Nutella, and strawberries!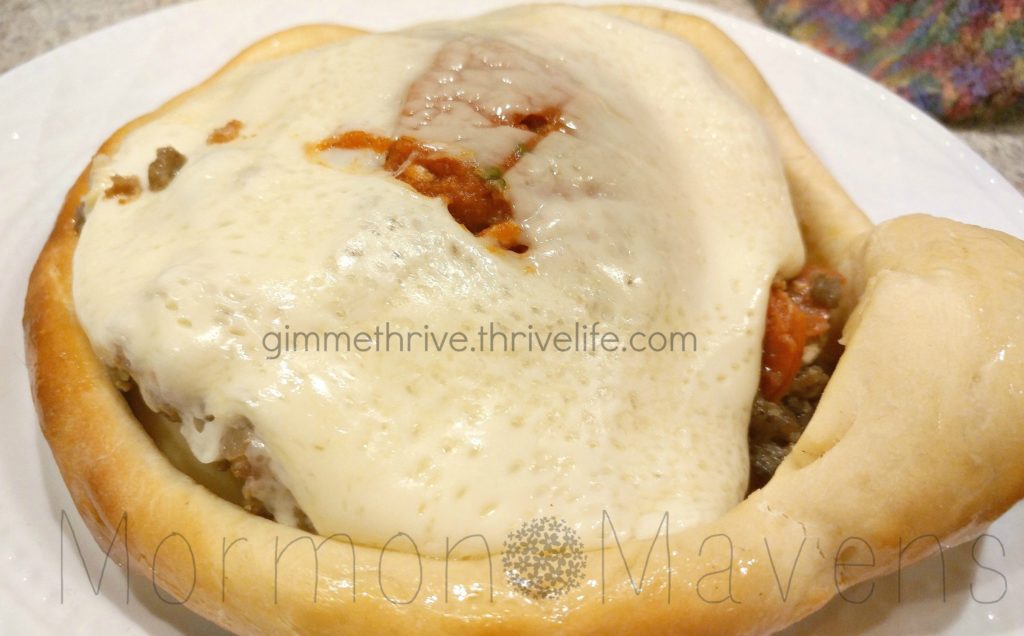 Pizza Bowls
2016-11-01 03:55:13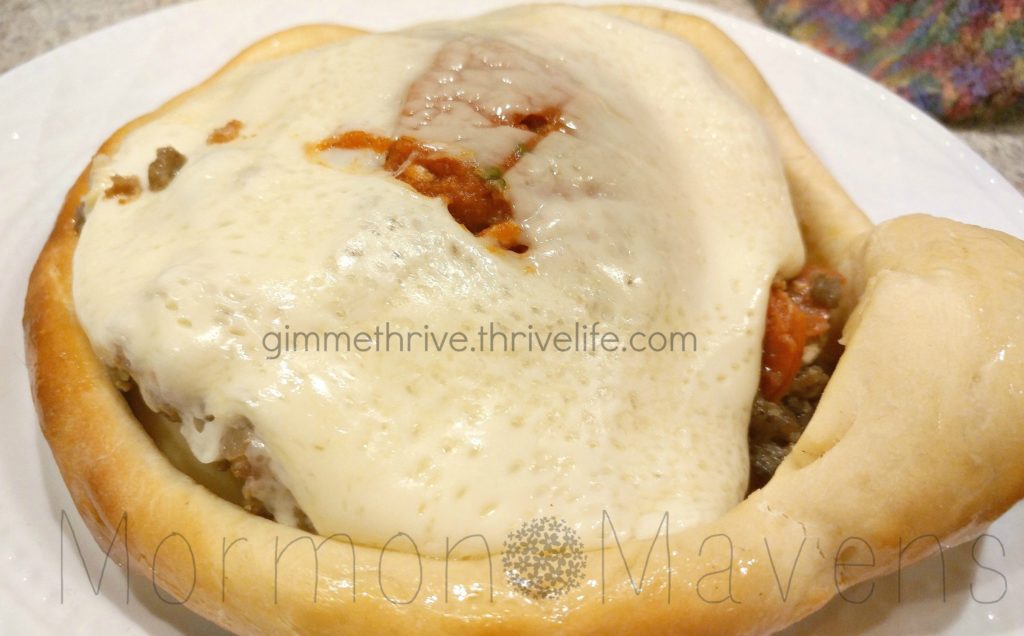 Serves 4
Upside down pizza pot pie goodness baked in a bowl!
Ingredients
2 1/4 tsp. active dry yeast
1 cup plus 2 Tbsp. very warm water
3 3/4 cup Thrive Country White Dough Mix
cheese of your choice (mozzarella, provolone, cheddar, etc.)
sauce of your choice (spaghetti, pizza, Alfredo, Bechamel, etc.)
toppings of your choice (pizza meats, veggies, etc.)
Instructions
In the bowl of a stand mixer, combine the yeast and the 1 cup + 2 Tbsp. very warm water. With the dough hook on the mixer, slowly add in the dough mix until well-combined, then let the machine knead for 5 minutes.
Remove the dough to an oiled bowl, turning dough over to coat. Cover bowl with a clean towel and allow to rest and rise for about 40 minutes or until doubled in bulk. Punch down and allow to rise again.
Punch down and separate into 4 equal chunks. On a counter or floured board, roll or press out each chunk into a circle wide enough to cover the bowl and come down the sides of the bowl by at least an inch.
Spray each bowl with nonstick cooking spray thoroughly. Also spray the outside rims a little. Layer 4-6 cheese slices in the bottom of each bowl.
Mix the Tomato Sauce with the water until smooth. Pour 1/2 cup of sauce into each bowl.
Add pizza toppings of your choice. It's okay to fill up the bowl to the top or even have it be mounded a little.
(Note: you can use Thrive veggies and meats for toppings. Just refresh them first!)
Take a circle of dough and carefully cover each filled bowl so that the dough goes over the edge and down the sides of the bowl by at least an inch.
Place bowls on a large baking sheet making sure to leave space between them. Bake at 425 degrees for 15 minutes or until deep golden brown on top.
Remove from oven and brush the crusts with melted butter.
Remove a bowl from the baking sheet and place it on a dinner plate. Take another dinner plate and place it upside down over the pizza bowl. Using both hands--thumbs on top plate and fingers under bottom plate--firmly and carefully turn the plates over. Remove the top plate.
Using a couple of spoons, carefully release the bowl from the crust/filling by lifting up on one side. If cheese has stuck to the bottom of the bowl, use the other spoon to scrape it out. Carefully remove the hot bowl and set aside.
Enjoy! You'll want to eat this with a fork and knife!
Notes
Because I sell Thrive, I have a LOT of Thrive. So I used our bread mix. But you can use your favorite bread dough mix or bread recipe. Just use what you'd use for 1 loaf.
I made this using our family's cereal bowls, which are OVEN SAFE*****. But you can use any oven safe bowl/ramekin. I've even used kid sized real baking tins. I like using the ramekins we have because it makes a smaller portion which is just right for me.
Mormon Mavens https://www.mormonmavens.com/