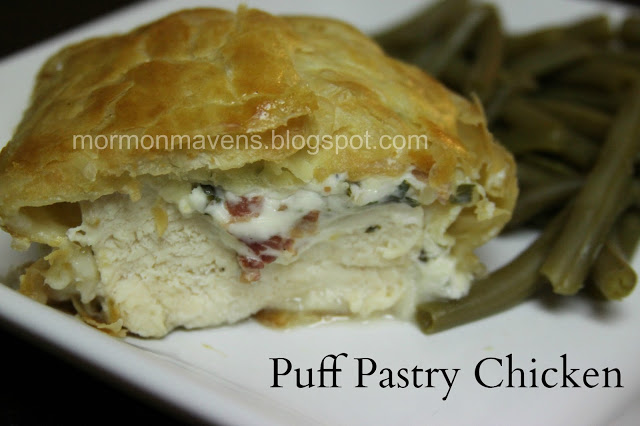 I made this for the first time tonight, and my family LOVED it! It was such an easy recipe too! I will definitely be making this again! YUM!

I've never cooked with puff pastry before, and I really liked it! So flaky and delicious!

Puff Pastry Chicken

Ingredients:
4 chicken breasts
frozen puff pastry sheets, thawed (I bought 1 box of Philo dough, and it was enough)
4 oz cream cheese, softened
3-4 slices of bacon, cooked and crumbled
fresh parsley, a few sprigs, chopped
1 green onion, chopped (can use dried onions instead)
1 egg, put in bowl and whisked
salt and pepper to taste

Instructions:
1. Mix together cream cheese, bacon, parsley, and onion. This is your filling.

2. Cut a deep slit into each chicken breast, and add the filling.

*Once I got the chicken breasts slit and stuffed with the filling, I felt they were way too large, and I cut them each in half. Then I wrapped them with the dough. I am so glad I did this! They were the perfect serving size for us. A whole breast would have been way too big!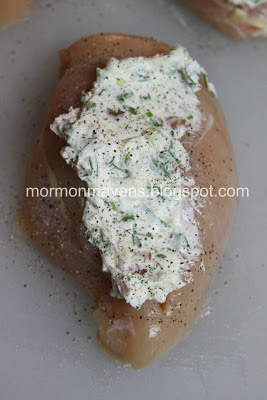 3. Generously salt and pepper the chicken.


4. If you get two large sheets of puff pastry like I did, you will need to cut them into pieces the right size to wrap around each piece of chicken. This is slightly tricky, but I made it work.

5. Place the chicken onto the dough, filling side down. Brush some egg around the edge of the dough – this is used to help seal the dough together. Fold the dough around the chicken and place on greased baking sheet, with the ends of the dough down.

6. Brush top with egg.

7. Bake at 400 degrees for 30-35 minutes, or until the chicken is done.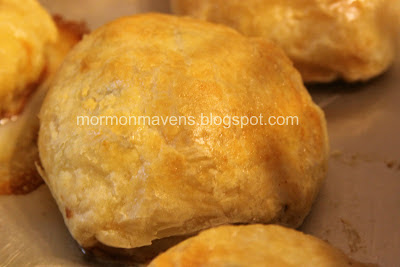 These were truly delicious! I hope you enjoy them like we did!

Source: adapted from kayotickitchen