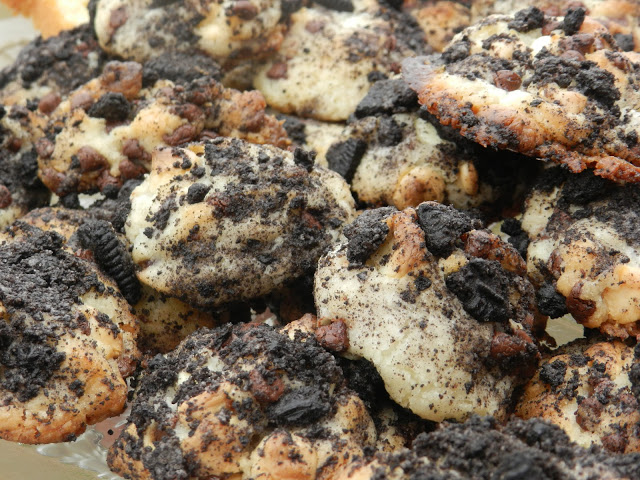 Ingredients:
1/2 c. unsalted butter, room temperature
3 oz. cream cheese, room temperature
1 c. sugar
1 t. vanilla
1 c. flour
1/2 c. mini chocolate chips
1/2 c. white chocolate chips
1 c. Oreos, crushed
Directions:
1. Preheat oven to 375 degrees F. Line a baking sheet with parchment paper and set aside.
2. In a mixing bowl, cream together the butter and cream cheese on medium speed until smooth and well-combined.
3. Add the sugar and vanilla and mix until the ingredients are well-combined. Add the flour and mix on low until the flour is incorporated. Stir in the mini chocolate chips and white chocolate chops with a rubber spatula.
4. Place the Oreo cookie crumbs in a small bowl. Scoop the cookies into about 1 1/2 to 2 inch balls and then roll in the cookie crumbs. Place the cookie balls on the baking sheet. Bake for 12 to 15 minutes or until edges are golden and the tops are slightly puffed.
5. Cool on the pan for 2 minutes before transferring to a wire rack to cool completely. Store in airtight container.
Source: Brown Eyed Baker