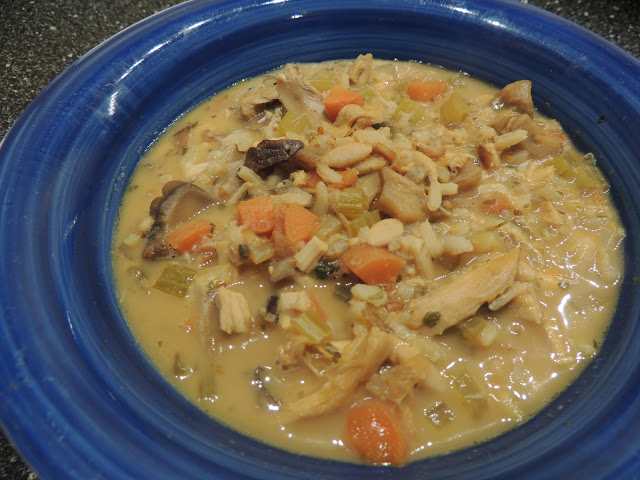 This recipe was born when company showed up unexpectedly to a "Cooking Light" reader's home. It became a big hit. It's easy to prepare and it tastes even better the next day.
Ingredients:
1 (6 oz) box long-grain and wild rice mix (such as Uncle Ben's)
1 T. olive oil
1 1/2 c. chopped red onion
1 c. chopped celery
1 c. chopped carrot
2 garlic cloves, chopped
1 (8 oz) package mushrooms, halved
1/4 c. all purpose flour
1/2 t. dried tarragon
1/4 t. dried thyme
2 c. water
2 T. dry sherry (optional)
2 (15.75 oz) cans fat free, less sodium chicken broth
1 (12 oz) can fat free evaporated milk
3 c. shredded roasted skinless chicken
Directions:
1. Prepare wild rice mix according to package directions; set aside.
2. Heat oil in a large Dutch oven over medium-high heat. Add onion and next 4 ingredients (onion through mushrooms); saute for 6 minutes or until onion is tender. Lightly spoon flour into a dry measuring cup; level with a knife. Stir flour, tarragon, and thyme into onion mixture; cook 1 minute, stirring frequently. Add 2 c.
water, sherry, chicken broth, and evaporated milk; bring the mixture to a boil. Reduce heat and simmer 20 minutes or until slightly thick.
3. Stir in cooked rice and chicken; cook 10 minutes or until thoroughly heated. Yield: 8 servings (serving size; 1 1/2 cups).
Source: Cooking Light