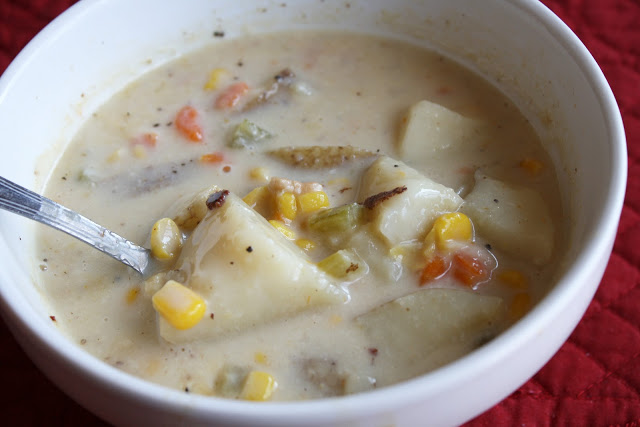 This is really great comfort food. It warms you up and fills you up!!! I made a huge pot of this chowder and had more than 12 servings! This is very simple to make, and I am sure you already have everything on hand!
1/2 lb of bacon, chopped
1 small onion, chopped into same size as the corn kernels (do this for all veggies except potatoes)
1 cup celery, chopped
1 cup carrots, chopped
4 ears of corn , kernel cut off (or 2 cans of corn or 1 bag of frozen corn)
1 potato per person, chopped into bite sized pieces
milk, about 1 quart
16 oz of chicken broth
2 tbs. of butter
salt
pepper
2 TBS. or more of cornstarch or flour, for thickening
water, for the cornstarch
*serves:6-12 people
In a really big pot, fry the bacon. Stir to keep it from sticking and scoop out when done and set it to drain on paper towels. Save the grease. You can pour off all but about 2 -3 TBS.
Into the bacon grease add the veggies except the corn and potatoes. Let the veggies cook until tender. Then add the corn. Stir to keep from sticking for a couple of minutes. Add the potatoes. Stir those also.
Add the enough milk to cover the potatoes and then add in the chicken broth. You may not want all of the chicken broth but, add until you have enough liquid. Drop in the butter, season with salt and pepper. Let this simmer until the potatoes are tender.
In a separate bowl add the cornstarch. To that add a little water slowly and then whisk away the lumps. Add the cornstarch mixture to the pot when the potatoes are tender. You may need to add more until you get it the right consistency for you.
Serve with crumbled bacon on top or you could add that back to the chowder.