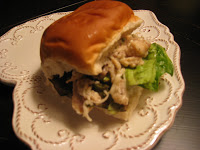 My daughter, Madi, is a huge fan of Chicken Caesar Salad so we gave this recipe a try and it is our new family favorite. It's so easy and deliciouso!
2 lbs. boneless skinless chicken thighs
1/2 to 1 cup of your favorite Caesar dressing
1/2 cup shredded Parmesan cheese
1/4 cup fresh chopped parsley (if you don't have fresh use 2 t. dried parsley)
1/2 t. ground pepper
2 cups shredded romaine lettuce
12 slider buns or 4-6 regular sized hamburger buns
1. Place chicken in a 3-4 qt. slow cooker with 1-2 cups of water, cover and cook on low 4-6
hours.
2. Remove chicken from cooker using a slotted spoon and drain the water from the slow cooker.
Place chicken on a cutting board and pull chicken into shreds, discarding any fat.
3. Place chicken back in the cooker and pour dressing, Parmesan cheese, parsley and pepper
over the top. I really make sure that I discard any fat pieces so by the time I am done I only
use about 1/2 cup of dressing but you may need more if you have more chicken. Stir until
mixed evenly. Cover and cook on high heat for 30 minutes or until mixture is hot.
4. Spoon 1/4 cup mixture onto each slider bun if you are making sliders or more for regular
sized buns. Top with extra shredded Parmesan cheese and lettuce to serve.
Notes: I have also used a 4 lb. bag of bone-in, skin-on thighs and just doubled the other ingred-
ients (except for the dressing which you have to play around with according to taste). I
used Ken's Light Caesar dressing.
Source: Pinterest