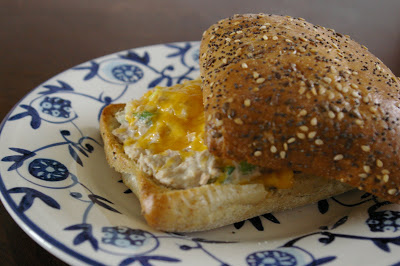 A delicious twist on the old grilled tuna! This makes for a great lunch at home. I recommend using a thicker bread for this sandwich, so you can pile on the ingredients. A wheat ciabatta bread is pictured here, but you could use a hoagie roll, english muffin or thick sliced french bread.
Servings: 3-4
Ingredients:
2 (5 ounce) cans Tuna, drained and flaked
2 T. mayonaise
1 celery stalk, finely chopped
2 green onions, chopped
1/2 C. crushed pineapple
1/2 t. salt
1/4 tsp. lemon pepper seasoning
1/2 C. shredded cheddar cheese
Your favorite bread
1 T. butter
Directions:
1. Combine tuna, mayonaise, celery, green onion, pineapple, salt, and lemon pepper in a bowl.
2. Spread tuna mix over bread slice and sprinkle with cheese. Spread a small amount of butter on the top slice of bread.
3. Broil 6 in. from heat for 2 minutes or until cheese is melted and top slice of bread is toasted. Serve immediately.
Source: my variation of an allrecipes.com recipe