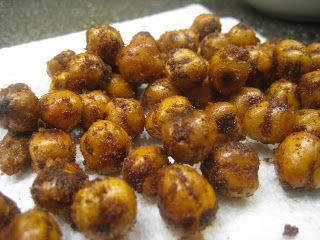 Cheap, easy and addictive!
Ingredients:
1 can (14 oz) chickpeas (garbanzo beans), drained
2 teaspoons olive oil
1 teaspoon cinnamon or your spice(s) of choice
1 1/2 teaspoons brown sugar
1/4 teaspoon salt
Directions:
Place chickpeas on a baking sheet lined with parchment paper.
Bake at 450 F for 30 minutes. (You didn't miss anything here. You don't oil or season them until after they are done. In fact, for an extra healthy treat, try them when they get out of the oven before even adding the oil. They are enjoyable all on their own.)
Transfer chickpeas to a bowl and mix thoroughly with the rest of the ingredients.
Enjoy hot, or bring to room temperature and store in an air-tight container. Like popped corn, the chickpeas are never as good the next day. However, they are still quite enjoyable 3-4 days after making them.
Source: Cupcake Project