Today I am going to share with you a quick, easy, healthy, tasty chicken recipe. Not only that, I am going to give you the whole meal so that you will have a yummy addition to your 30-Minute Meal Arsenal. And you know why? 'Cuz that's how I roll….
The chicken part of this recipe is original, the other components of the meal are straight out of the can, already seasoned, tried and tested in the Jenkins Family Test Kitchen–two thumbs up!!

Ingredients:
4 skinless, boneless chicken breasts
Olive oil
Lime Pepper seasoning
1 can Margaret Holmes Southern Style Seasoned Mixed Greens
1 can La Costena Frijoles Charros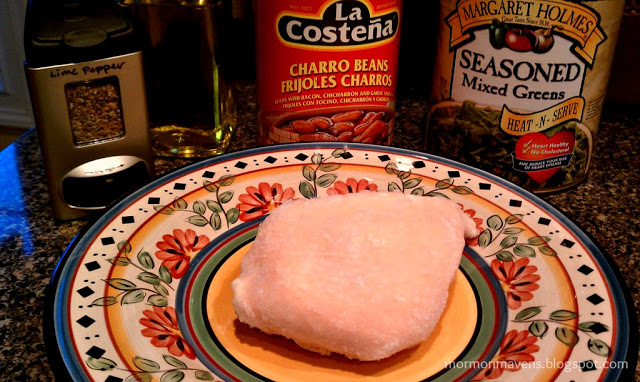 1. Place chicken breasts in a gallon-size zippered freezer bag. Add about 2 tablespoons of olive oil and about a teaspoon of Lime Pepper seasoning (to taste). Close the bag and kind of "moosh" things around until the chicken is evenly coated with oil and seasoning.
2. Grill chicken on a counter-top nonstick grill (I used my George Foreman grill) for approximately 8 minutes, checking for done-ness.
3. Meanwhile, open the cans of beans and greens and heat each over medium heat until ready to serve.
4. That's it. Really.