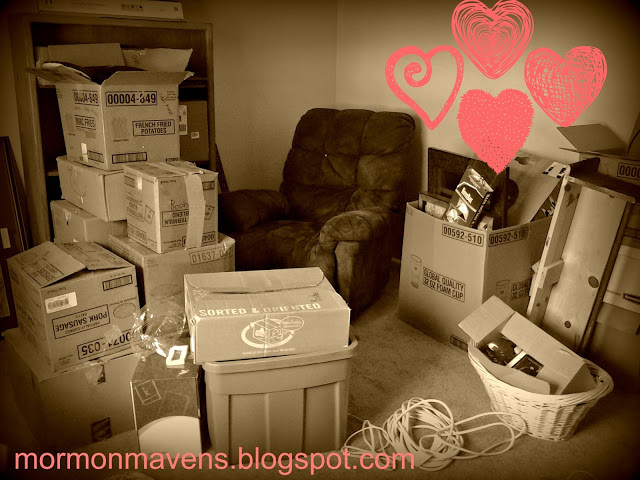 In the past few weeks I have experienced so many waves of emotion! Barrett and I decided to move across town to be closer to his work. There are so many benefits to this, the least of which that we will see Barrett for about an hour more each day. It was the right move but I did not want to do it! We have moved about 18 times in our marriage and each time we have moved I have had family to help me, this time I did not. Who would I ask to watch my kids? Who would help me pack, Who would help me unpack? We moved from a house with a huge yard, to a town house without one. We moved from a quiet neighborhood, to an apartment complex. We moved away from neighbors we knew to being next door to strangers.
I worked really hard to have everything packed and prayed that people would show up to help Barrett load the truck. I wasn't prepared for what happened! Enough men came that they had the truck loaded, moved to the new house, and unloaded in 2 1/2 hours! A friend watched my children for several hours. Two wonderful women stayed to help me unpack my kitchen. And, last but not least, we had several people offer to bring us dinner. I felt such an amazing outpouring of love. It is wonderful how service works, my heart grew to love so many in my ward from one day of service. I feel a kinship towards them that I didn't feel before.

This is just another experience in my life that reminds me that serving others is truly loving. Christ is the perfect example of this, in that his life was a service to the whole of mankind. I am so grateful our church has taught us to serve and that no matter where I live, I will have others I can turn to. I still miss my family but life on this side of the country just got better!