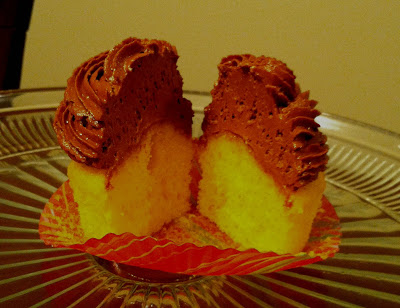 These cupcakes are compliments of Martha Stewart. I like this recipe because it's simple and I always have the ingredients on hand!
Ingredients:
1 1/2 cups all-purpose flour
1 1/2 teaspoons baking powder
1/2 teaspoon salt
3/4 cup sugar
1/2 cup (1 stick) unsalted butter, room temperature
2 large eggs
1/2 cup milk
1 teaspoon vanilla extract
1. Preheat oven to 350 degrees. Line the cups of a standard muffin pan with 12 cupcake liners.
2. Add flour, baking powder, salt and sugar in a large mixing bowl. Mix dry ingredients.
3. Combine milk and vanilla in a small bowl or measuring cup. Set aside.
4. With the mixer on medium speed, add softened butter one tablespoon at a time until incorporated in to the flour mixture.
5. Add eggs one at a time.
6. Add milk and vanilla and continue mixing for an additional 2 minutes.
7. Fill cupcake liners half full and bake 17-20 minutes.
*Keep a close watch on your cupcakes, especially if you are trying a new recipe for the first time. Oven temperatures vary! These cupcakes don't take longer than 18 minutes in my oven.
Source: MarthaStewart.com