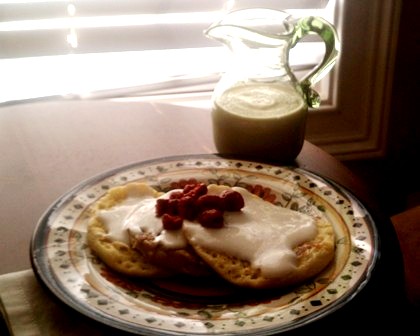 I have no idea which magazine this recipe came out of–Better Homes & Gardens? Southern Living? Popular Mechanics? Don't have the foggiest. Didn't know I would need that information when I clipped it for my "Someday I Will Make This" folder. So, if the 'owner' of this recipe ever reads this blog and recognizes this recipe–props to you sista! I promise to never make this and call it my own. You will always be a part of this dish…By the way, I put raspberries on mine because that is what I had in my pantry (Thrive product). I would like it better with the suggested fruit toppings, I think. They would be sweeter. Just sayin'…
Ingredients:
4 large eggs
1 cup nonfat buttermilk
2 tsp. orange zest
1 tsp. vanilla extract
6 English muffins, split
Vegetable cooking spray
1 cup fat-free Greek yogurt
2 Tbsp. maple syrup
Toppings: chopped fresh strawberries or nectarines.
1. Whisk together first 4 ingredients in a bowl. Place English muffins in a 13″ x 9″ baking dish, overlapping edges. Pour egg mixture over muffins. Cover and chill 8-12 hours.
2. Remove muffins from remaining liquid, discarding liquid.
3. Cook muffins, in batches, in a large skilllet coated with cooking spray over medium-high heat 2-3 minutes on each side or until golden. Stir together yogurt and syrup until blended (I would add more syrup to your taste. I did.); serve with the muffin French toast and toppings.
Source: There really is one somewhere in a magazine.