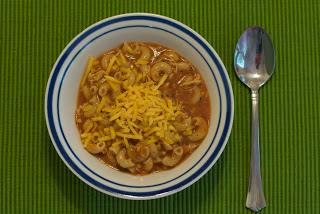 This is a staple dish in our home. We eat it for lunch at least once a week and the kids scarf it right up (even Mr. Picky, aka: Ruffian1). Easy-peasy! Guaranteed Goodness!
8-12 oz Uncooked Pasta–we like SMALL shells or Elbow Macaroni
2 (10 oz) Cans Tomato Soup
1 Can ONLY Water
1/2 tsp Thyme
1 tsp Basil
1 tsp Oregano
1 (13 oz) Can Chicken Breast (you could cook a chicken breast and shred it, instead)
1 Cup Cheddar Cheese
1. In a Medium saucepan, cook Pasta according to package directions. Remove to strainer.
2. In the same pan (SAVE ON DISHES!), empty the tomato soup and add 1 can of water (remember, this is THICK soup. You can add more water if you like, but we don't.)
3. Stir in Thyme, Basil, and Oregano.
4. Shred the chicken with a fork and add it to the soup. Mix until everything is evenly incorporated.
5. Add cooked noodles and stir well.
6. Remove from heat and stir in cheese.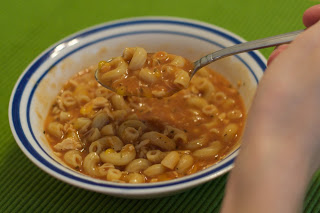 Mm-MMM!
Source: My family recipe box
~Kara