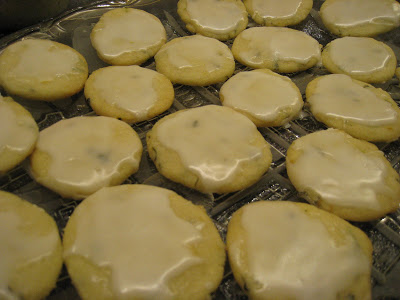 Ingredients:
1 1/2 cups butter, softened
2/3 cup sugar
2 T. fresh basil, chopped (or 3 1/2 T. dried basil)
2 T. grated lemon zest, divided
2 3/4 cups flour
pinch of salt
Lemon Glaze
Directions:
1. Cream together butter and sugar until light and fluffy. Add basil, lemon zest, flour and salt. Gently stir until combined.
2. Chill dough in refrigerator for 1 hour. On a floured surface, roll chilled dough to 1/3 inch. Cut out circles or rectangles, and place on a parchment lined baking sheet.
3. Bake at 375 for 8-10 minutes or until lightly golden. Remove from oven and cool on a rack. Cover with lemon glaze while cookies are slightly warm.
Lemon Glaze
Ingredients:
2 cups powdered sugar
4-5 drops pure lemon essential oil or lemon extract
2 t. (or more) water
Directions:
1. Gently whisk all ingredients together until all lumps are gone. Drizzle over cooled basil cookies. Store cookies in an airtight container.