!Delicous! (in my singing voice.)
I usually don't go for the taco soups and taco dips. If I am going to eat something that tastes like a taco, I want a taco! But, I came across a recipe on the Betty Crocker website that pricked my interest. I changed several things and made it my own. And oh my goodness. …it's really good! The kids even loved it! What I loved most about it were the warm green bell peppers and warm tomatoes that still had a bite to them! This is really yummy and easy to make. And reheating the leftovers just made it better!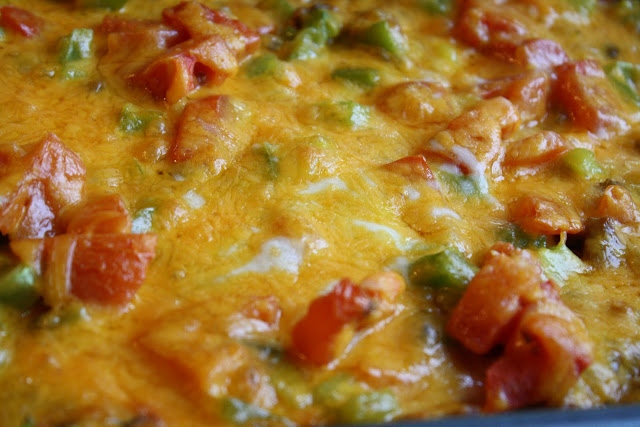 -1 lb ground beef, browned & drained well
-1 can black beans, drained & rinsed!
-1 16 oz jar chunky salsa, mild
-1 package of taco seasoning
-2 -1/2 cups broken tortilla chips
-1/2 medium green bell pepper, chopped (This added alot of flavor! Infact, it was my favorite part. So next time I might add more!)
-1/8 c yellow onion, chopped fine!! (You can add this into the meat when browning it, or just toss it into the mix and the baking will soften
them up just fine.)
-2-3 good size Roma tomatoes, chopped (These are my favorite. You can obviously use any tomato you want.)
-1 c shredded cheddar cheese
-1/2 c mozzarella cheese, or your favorite white cheese
(I will be honest and say, I added cheese until I felt like it was enough! So, you might want to play with the amount. Cheese adds fat, so take that into
consideration if you want this on thisdish on the lean side!)
-shredded lettuce, to add as a topping, so as much as you want (but at least 1 cup.)
-tortilla chips, for topping or eating this dish with!
Heat oven to 350 degrees. Brown beef, and drain well. Set aside. Saute onions and add beef back into the pot. Drain beans and add into the pot along with the seasoning packet and the salsa. Stir well. Reduce heat to medium. (You may need to add some water if the mix is too thick.) Bring to a slow simmer.
In ungreased 9×13 baking dish, place 2 cups of broken tortilla chips evenly along the bottom. Top evenly with the beef mixture. Sprinkle chopped bell pepper, tomatoes, and cheese over the beef.
Bake uncovered for 25 – 30 minutes or until hot and bubbly and the cheese has melted. Serve and add lettuce, tomato and remaining chips on top.
You can add olives to this and green onions on the top, or whatever you fancy. Eat this with a fork or scoop with the tortilla chips. We did a bit of both!