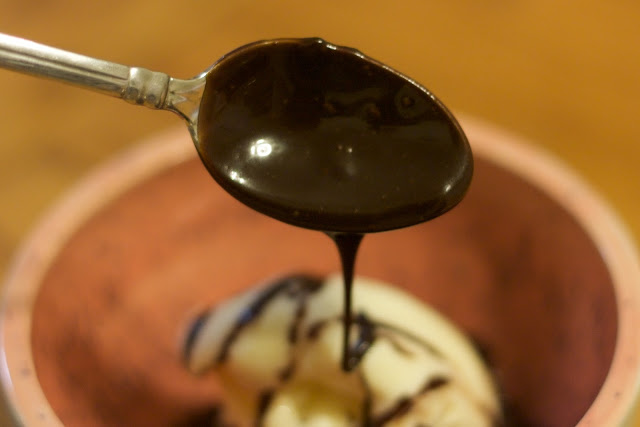 I may have mentioned before that I come from a family of sweet-tooths…sweet-teeth…whatever. You can blame my mother (and her mother before her) for my appreciation of Hot Fudge Sundaes.
A sweet lady in Colorado gave me this recipe for Hot Fudge Sundae Sauce after I begged her for it when I tasted its goodness at a Relief Society meeting. It's so easy to make and 5,000 times better* than that microwavable junk you can buy at the store (no offense, Microwavable Junk!). Now, that's what I'm talkin' about!
Ingredients:
1/2 C Karo Light Corn Syrup
1/2 C Evaporated Milk (not Sweet and Condensed!)
2 Tbsp Water
2 C Semi-Sweet Chocolate Chips
1 tsp Vanilla
1. In a medium-sized sauce pan, combine Karo syrup, evaporated milk, and water. Stir over medium heat until it just comes to a boil.
2. Remove from heat and immediately stir in the chocolate chips until smooth.
3. Stir in vanilla.
Yield: About 1 pint
This picture was taken after we and another family dipped into it for dessert, so the amount you see in the jar is not the full amount that was made.
The sauce stores very well in the fridge for a long time. Warm it up in the microwave or over the stove when you're ready to use it again.
Source: B. Buss, Greeley, CO
*Have I ever mentioned that I may exaggerate a bit? Yeah, I'm an exaggerator. But in my defense, it is better than store bought! 5,000 times better? That's for you to decide.
~Kara