I love that window of time in the summer when tomatoes are in season. It's the best time of year for BLTs, fresh salads and these broiled tomatoes.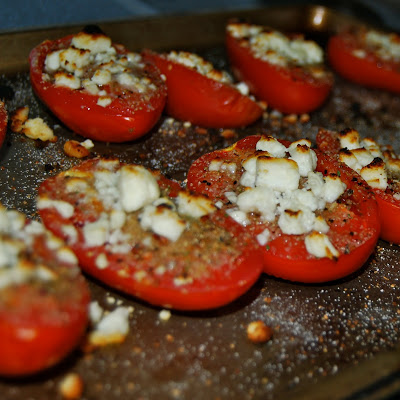 Ingredients:
6 Roma tomatoes
0.7 oz. Italian seasoning packet (used to make dressings or marinades)*
2/3 cup crumbled Feta cheese

1. Cut tomatoes in half lengthwise and place, cut sides up, on a baking sheet lined with aluminum foil.
2. Sprinkle each tomato half with Italian seasoning and feta.
3. Broil 3 inches from heat 2 to 3 minutes or just until cheese starts to brown. [If you're like me and forget to move the oven rack up until you've already preheated the oven, you can broil them at for an extra minute or two with the same results.]
*If you choose to use Italian seasoning in a spice bottle, you'll need to also sprinkle on salt and pepper; if you choose the dressing/ marinade powder it already has salt and pepper in it.
Source: Southern Living (magazine)