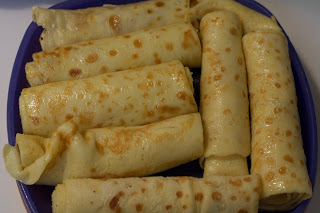 When I say "Grandma's," I mean MY grandma. We used to go to her house almost every week for Sunday dinner. It was common knowledge that we had a big lunch and "no dinner." By "no dinner" I mean we had a big dessert. I attribute my sweet tooth to Grandma (and my mom. Yep, it's totally genetic!)!
Swedish Pancakes were often on the "no dinner" menu. They are essentially Crepes, and though there are many various ways to eat them, the following way is the best. Trust me.
6 eggs
2 1/2 Cups Milk
1 1/2 Cups Flour
2 Tbsp Sugar
1 tsp Salt
1. Turn on your griddle to 350 F. A frying pan works, too–medium heat.
2. In a Medium bowl, beat your eggs until thick and foamy.
3. Stir in your milk.
4. Sift together dry ingredients (or if you're naughty like me, don't…) and add them to the egg mixture.
5. Beat until smooth.
This is where it may get a little tricky…
6. Making sure your griddle is nice and hot, spray it with Cooking Spray (don't forget!!).
7. Using a Ladle, cover your griddle in a thin layer of batter (apx 3 ladles-full).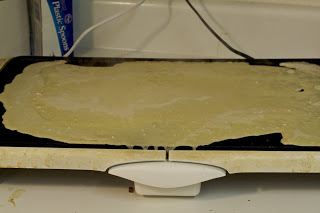 8. Wait until the batter looks a little dry, then use the corner of your Spatula and "cut" the pancake width-wise on the griddle into 4 rectangles (Sorry there's no picture of this. My hands were tied and I don't trust the Ruffians with the camera yet.).
9. Flip the rectangles over and butter them while the other side is cooking–I don't time it, but by the time I'm done buttering the last rectangle, they're done.
10. Don't worry if you have a few that turn out like this:
Just butter them, or lather them with jam or syrup and eat 'em anyway! OR if you're mad at it, THROW. IT. AWAY! That'll teach it! And it may make you feel better. (NOT that I would know about this from experience…)
11. Take the pancakes off the griddle and pile them on a plate. Repeat Steps 6 – 11 till all the batter is gone.
12. Take a sugar shaker***, if you have one–if not, your hand and a spoon will do just as well!–and shake a GENEROUS amount of sugar onto the buttery side, coating the entire thing. When I say "generous" I mean, GENEROUS. You should SEE the sugar! After you've done it a few times, you'll know how you like it and can do it your way.
13. Starting at a short end, roll one rectangle to the other end. Repeat steps 12 and 13 till all your pancakes are rolled up.
Now you can eat away! Your hands will be a little sticky, your tummies will feel full, and if you're like my Ruffians, your faces should look like this:
Ruffian3 smiling as he takes a bite. Ruffian2 likes to unroll hers. She always did like a mess!
Makes about 16.
***You really can use a variety of fillings. We've done jam, peanut butter and syrup, fruit and whipped cream, and Nutella–all VERY GOOD!
Source: Grandma Taylor, one of the greatest women alive!