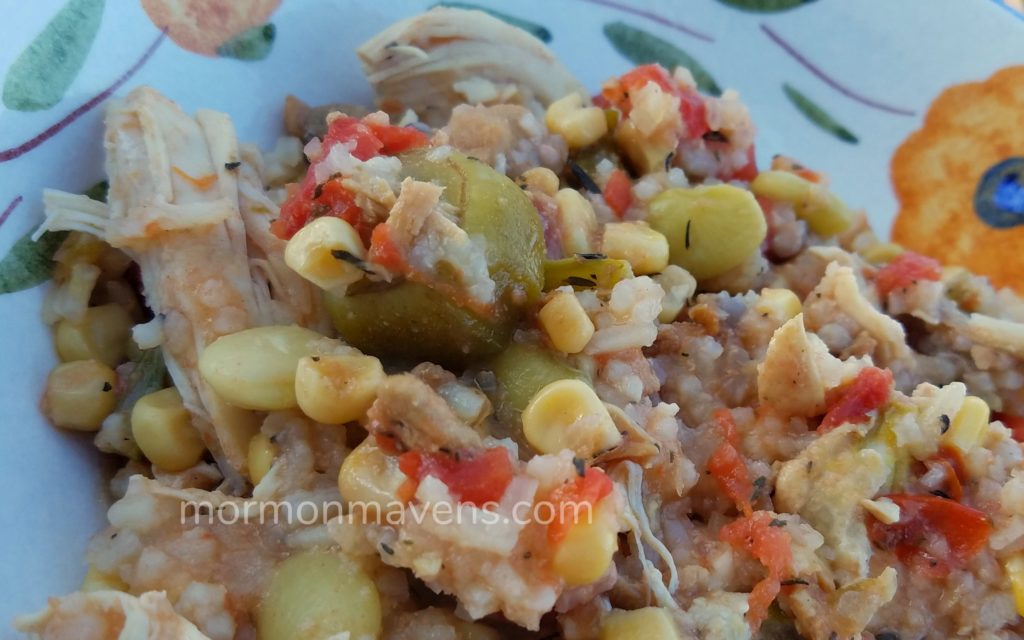 When we were little and living in Northern Virginia, our summer vacations usually consisted of driving down to Wilmington, North Carolina and visiting my grandparents, on my Dad's side of the family. We would either rent a cottage for the week on one of the beaches in the area or we would stay at Grandpa and Grandma Brew's house in Leland.
Always lots of stuff to do when visiting there like going down to Grandpa's store and filling a small brown paper bag with whatever candy and treats we could fit into it from the old candy case–we each got our own bag!–and we could get a drink from the drink case, where we could use the attached bottle opener to open a cold Pepsi or Mountain Dew–you know, before flip tops and screw caps.
Another favorite must-do while there was to go to a local seafood restaurant (I would usually get fried shrimp) and to go to Skinner & Daniels BBQ. Here is where the recipe memory gets really tasty. If my mind serves me right, I usually liked to get the BBQ chicken and ALWAYS the Brunswick Stew. So good. So "d-wicious", as my grandson would say. This is not their recipe, but I think Mom got it from Grandma Brew. That's my guess, anyway.
Skinner & Daniels isn't there anymore–long gone and probably replaced by an auto parts or mattress store, but the memories are still there.
Land sakes, (Grandma used to say that), look what I found on Google! So glad someone thought to put this on Pinterest.
A little side-note: I ran out of time between running to Walmart– because I didn't have any Lima Beans– and a meeting that I had at 10:00 this morning, so I Googled cooking this in the slow cooker. I found good instructions for doing this and saw that they had also included a pork tenderloin. Well you know I didn't have that on hand, but what I did have was Thrive Life Freeze-dried Pulled Pork . Thanks goodness for my Thrive! Threw everything in my Crockpot for 4 hours and now my house is smelling so good.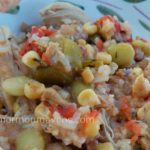 Brunswick Stew
2018-02-07 02:47:06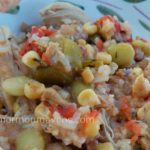 Serves 4
A tasty stew, often found in local BBQ restaurants in the South.
Ingredients
2 T. olive oil
1 onion, chopped
12 oz. boneless chicken, cut into 1" cubes
1 1/2 c. THRIVE freeze-dried Pulled Pork
6 c. chicken broth (30-oz. can)
1 (16-oz.) can stewed tomatoes
1 c. baby lima beans
1 c. corn kernels
1 c. sliced okra (opt.)
1/2 c. raw rice
2 t. dried thyme
2-3 t. Worcestershire sauce (or to taste)
14 t. Tabasco sauce (or to taste)
Instructions
In large soup pot, heat oil and saute onion over medium heat until softened, about 3 minutes.
Add chicken, broth, pork, tomatoes, limas, corn, okra, rice and thyme.
Bring to simmer, reduce heat, and cook, partially covered, for about 25 minutes, until rice is tender.
Season with Worcestershire and Tabasco.
Serve with cornbread, corn sticks, or hushpuppies (never heard of these? Stay tuned.)
Notes
Can be made 2 days ahead.
Leftover chicken would be fine in this soup. Add 2 c. cubed meat during last few minutes of cooking.
This soup takes particularly well by doubling. Use an 8 qt. pot and make enough for at least 2 meals.
Adapted from Pat Brew, The Brew Family Cookbook, vol. 2 "Strange Brew"
Adapted from Pat Brew, The Brew Family Cookbook, vol. 2 "Strange Brew"
Mormon Mavens https://www.mormonmavens.com/