While living in Utah, I became fiercely addicted to the local Mexican favorite… Cafe Rio. Every time I go back to visit, I some how find my way to one of their locations within 24 hours of being on Utah soil. Thanks to my sister-in-law, I have gotten my hands on a VERY good copy cat of pretty much all their recipes. So, for the next few Fridays I'll be publishing the next installment of Cafe Rio Goodness.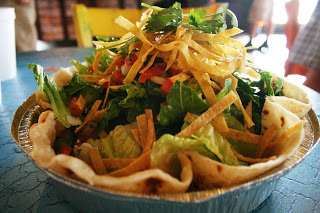 Just a quick warning on the recipe. It's totally dependent on the size of the pork roast. If it's under 2.5-3 pounds, do the smaller recipe, if it's over that… do the larger one.
Cafe Rio Pork Barbacoa
One Pork Roast…. either rib or shoulder (shreds the best)
1 (2) cans El Pato Mexican tomato sauce (its in a little yellow can)
2 (3) small cans tomato sauce
3/4 C. (1 1/2 C.) brown sugar
2 (4) cloves garlic, minced
Place all ingredients in Crock Pot, cook on high for 3-4 hours until done. Shred meat, let meat soak in sauce for 20-30 minutes before serving.
Seriously, this is such a close copy cat. I love it, and KNOW you will too!