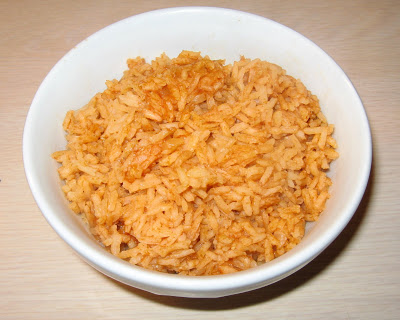 This recipe has been passed down from my feisty, 5'2″ Mexican grandmother, "Grama DeeDee". I "heart" this rice so much! It always brings back fond memories of my grandmother and my mother when I make it.
Ingredients:
3 cups water
1/2 teaspoon ground cumin
1/8 teaspoon ground oregano
4 teaspoons Caldo De Pollo chicken bouillon (Usually can be found at Walmart in the Mexi section. If that's not available, use your choice of chicken bouillon)
2 tablespoons light olive oil
2 cups long grain rice (Must be long grain!)
1. Have all ingredients prepared before starting to cook.
2. Blend water, tomato sauce, cumin, oregano and chicken bouillon in a bowl. Set near stove.
3. Heat oil in a 3-4 quart pan on Medium. Add rice and stir to coat rice with oil. Continuously stir to evenly brown. Be careful not to burn the rice! Add onions and garlic and stir constantly until onion is transparent.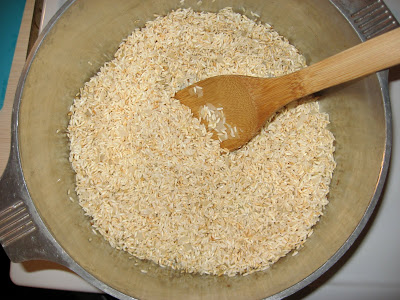 4. Shift pan to a cold burner and carefully add the liquid mixture. Watch out, it will steam!
5. Stir well and bring to a boil, stirring for about 2 minutes. Reduce heat to a simmer. Cover and continue to cook for about 20 minutes or until rice is tender.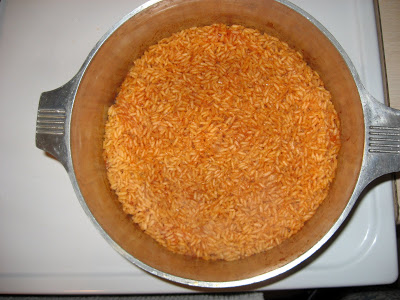 *Avoid lifting the lid too soon! There have been a few instances where I've done this and released all the steam. If you do this just add a little water before putting the lid back on.
*Sometimes I'll add about a tablespoon of tomato paste to the liquid mixture (It brings out more tomato flavor) or chopped tomatoes for texture.
*When I make this, I always use my Magnalite dutch oven. It is the same pot my grandmother and mother use to cook Mexican rice. My rice comes out perfect every time!
*For a healthier version, use long grain brown rice, add 1/2 cup more water and cook for 30-40 minutes.