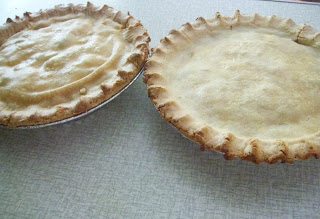 These chicken pies aren't as "deep" as I consider chicken pot pies to be. They are very simple and easy to put together when the chicken is cooked and shredded in advance.
Ingredients (for one pie)
2-3 chicken breasts, cooked and shredded
1 can cream of chicken soup
1/2 – 1 bag of frozen mixed vegetables

2 frozen deep-dish pie crusts, or 1 deep-dish and 1 roll-out crust (found in refrigerated section)

Butter, optional
Salt and pepper, optional
1. Preheat your oven to 350 degrees if you're planning to bake the pies after assembly.
2. I prefer poaching the chicken with herbs ahead of time or using leftovers from Our Best Bites' Fauxtisserie chicken, which works out nicely because the chicken is flavorful and already around. I have also found it's easier to shred chicken when it's warm. If you're short on time you can always use your food processor for all or part of the chicken instead of having to take the extra time to shred it. (You could also use canned chicken but "IMHO" doing so makes the pie less flavorful…) Mix the chicken with the cream of chicken soup.
3. Add mixed vegetables as desired and incorporate into the chicken mixture. It may look something like this, depending on your personal preference and how much of each ingredient you'd like to use:
4. Put the chicken mixture in the deep-dish pie pan.
5. Add the other crust or roll-out crust and then slice off extra & pinch together (I pinch using my thumbs). Freeze at this point if you'd like (they do fit in a gallon-size Ziploc bag).
6. Add butter to the top (opt.) and bake at 350 degrees for 20-30 minutes–really you just want the top to brown and the pie to be heated through because everything else is cooked. (Cooking time is longer from frozen, in which case leave more time for cooking…I usually eyeball it.) I always add salt and pepper to taste before digging into my own portion, but of course if you'd prefer you can just add some to the mixture itself during step number three.
This recipe is easily doubled. I like to eat this with biscuits; then if I have extra filling I just eat it with the extra biscuits later!

The two pies you see in the picture were done a bit differently for the sake of experimentation. Another deep-dish pie crust was used for each (vs. refrigerated roll-out pie crust). The left pie, as you may be able to tell from the ridge, had the top "flipped" onto it; the right pie had the top "set on top" of it. The left pie cooked for 5 minutes before the top was buttered. For the pie on the right, I used a wet paper towel to wipe/even out the flour that came on it, then added butter and put it in the oven (it also cooked 5 minutes less, technically).
Source: I got this recipe from my sister-in-law, Myra, and have customized it with my commentary.