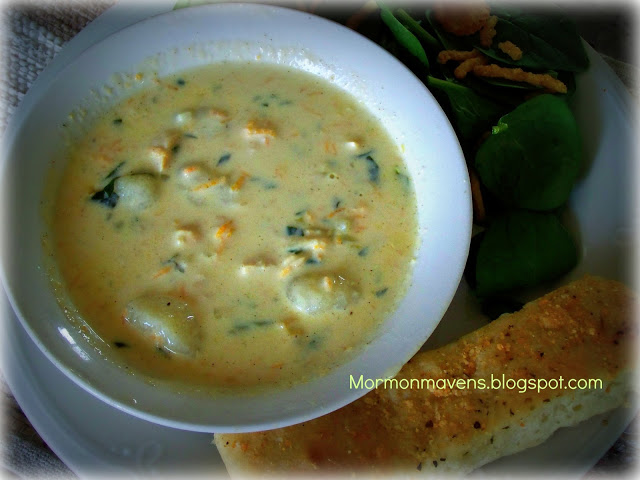 Thank you so much for inviting me to post on this wonderful blog! I love to cook and try new things, so I am looking forward to being here very much.
For my first post, I will share a wonderful soup we tried a few weeks ago. If you have ever tried Olive Garden's Chicken and Gnocchi soup, you will be as excited to try this as I was. I was pleasantly surprised by how easy this was to put together. We all loved it (kids included)! It is hearty, silky, and satisfying. And let's be honest, Gnocchi is just fun to say.
Chicken and Gnocchi Soup (Olive Garden Style)
Ingredients
1 tablespoon EVOO

4 tablespoons butter

4 tablespoons flour

1 quart half and half

1/2 cup celery, finely diced

1 cup onion, finely diced

2 minced garlic cloves

1 or 2-14 ounce cans of chicken broth (adjust to desired level of thickness)

1 cup carrots, finely grated

1 cup chicken breasts, cooked and diced

1 package gnocchi, cooked (usually in the pasta or prepared food sections of the store)

1 cup of fresh spinach coarsely chopped

1/2 teaspoon salt

1/2 teaspoon thyme

1/2 teaspoon parsley

1/4 teaspoon nutmeg (optional, but you should use it!)
Instructions
Saute the onion, celery, and garlic in the butter and olive oil over medium heat until the onion becomes translucent. Cook gnocchi according to directions. Stir in flour to make a roux and cook out the raw flavor of the flour for about one minute. Add half and half. Add in the carrots and chicken. Once the mixture becomes thick, add the chicken broth. Stir until the mixture thickens again, add the cooked gnocchi, spinach, and seasoning. Simmer until soup is heated through. May season with additional salt to taste.
Notes: I used home canned chicken for speed and it was delicious. You could also use a Rotisserie chicken, which would give it an added flavor boost.
For those of you who don't know, Gnocchi is Italian for potato dumplings.

Source: Copykat.com