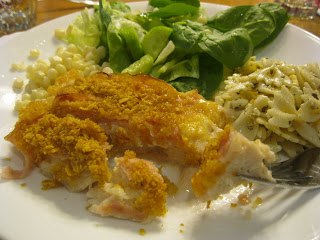 We love the flavor of Chicken Cordon Bleu, however, it can be time consuming. This recipe combines the yummy flavors of the dish. Omits the gravy making it less work and calories!
Ingredients:
12 boneless skinless chicken tenders
Lemon Pepper
Dried chopped onions
12 slices of deli style ham – I use honey ham
6 slices Swiss Cheese
1 1/2 cups Corn Flake Crumbs (crushed Corn Flakes)
1. Spray a 13 x 9 inch pan with non-stick spray
2. Arrange chicken pieces in pan and sprinkle lightly with Lemon Pepper and Dried Onions
3. Place ham slices on top of each other and cut in half – place two half pieces on each chicken tender
4. Cut cheese slices in half to make 12 pieces – place one piece on each chicken tender
5. Sprinkle corn flake crumbs on top. Cover with aluminum foil
6. Bake in 400 degree oven for 30 min. Removing foil the last 10 minutes.
This can be frozen for up to 2 months. Freeze before baking.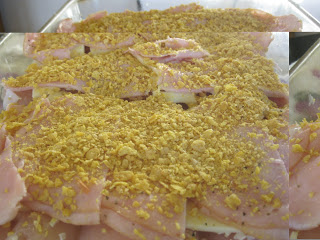 Source: A Jennie Original