This is one of my favorite comfort casseroles and it's a big favorite when you invite missionaries over to eat supper. Our's just left a bit ago and I am surprised that there are leftovers. They put a major munch on this!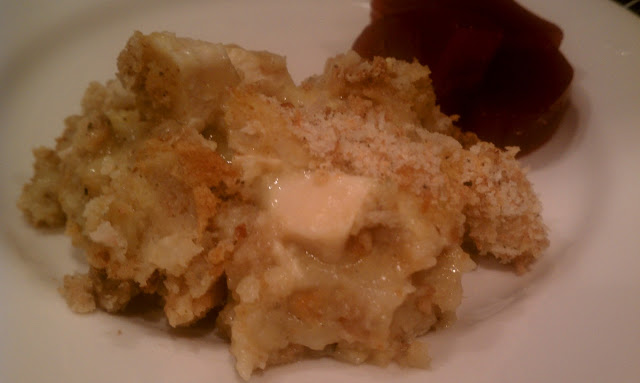 Ingredients:
5 chicken breasts (or 2 fryers or use 3 boneless, skinless breasts (cooked) and use packaged chicken broth)
1 regular (14oz.) package Pepperidge Farm Herb Dressing Mix (reserve 1/4 cup)
2 cans cream of chicken soup (I used the low fat version and didn't notice any difference in taste!)
2 soup cans of chicken stock
1 stick butter or margarine
2 eggs
1/2 teaspoon black pepper
1/2 cup milk
1. Simmer chicken until tender. Save stock and strain. Let chicken cool; remove bones and cut into bite-size chunks.
2. Combine soup, stock and butter in pan and bring to a boil. Remove from heat. Add black pepper.
3. In a slightly greased 9×13 pan, layer half of dry dressing mix, half of chicken and half the soup mixture (about 2 1/2 to 3 cups soup mixture). Repeat layers.
4. Beat eggs in milk and pour over top of casserole. Sprinkle reserved dressing over top.
5. Bake at 350 for 45 minutes. Serves 10.
This is great served with cranberry sauce and green beans, I mean, if you just needed to know…
Source: My mom, Pat Brew, in our first edition of the Brew Family Cookbook.