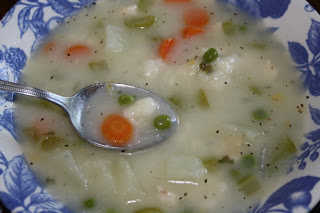 The "sniffles" and "coughs" have had a party at my house this past week. So, its obvious that we need chicken stew, even if it is 90+ degrees outside. This is really good stuff! My family loves it! Especially the dumplings!
Stew:
2-1/2 to 3 lbs. chicken thighs, or chicken breast
5 c. water
4 new red potatoes (or whatever you have)
3-4 carrots
2-3 stalks celery
1 med. onion
10 oz. pkg. frozen peas
salt
pepper
Dumplings:
1-1/2 c. all-purpose flour
2 tsp. baking powder
3/4 tsp. salt
3 Tbsp. butter or margarine, softened
3/4 c. milk
1/4 c. chopped fresh parsley
In Dutch, or pot, place chicken; cover with wter. Cover and cook over med heat until fork tender. Meanwhile chopped veggies. If using the red potatoes, leave the peel on! (I didn't have any the afternoon when I made this pot.)

When chicken is done, remove from broth; skim fat.
Remove chicken from bones; return to broth. Add remaining stew ingredients. Cover and cook over med. heat until veggies are fork tender (15 – 20 min). In large bowl stir together flour, baking powder and salt. Cut in the butter until mixture is crumbly. Stir in milk and parsley. Drop dumplings by rounded tablespoonfuls into hot stew. Cook, uncovered, 10 min.