My oldest daughter introduced this "new and improved" cinnamon toast method to our family a while back. She found it online–probably on Pinterest. I must say it does make a superior toast! She adapted it a little from the original Pioneer Woman recipe, but I've included the ingredients we leave out in case you want to give it a try. (She also adapted the instructions to her liking.) The recipe is for 16 slices of toast, but you can easily adjust the amounts for your needs.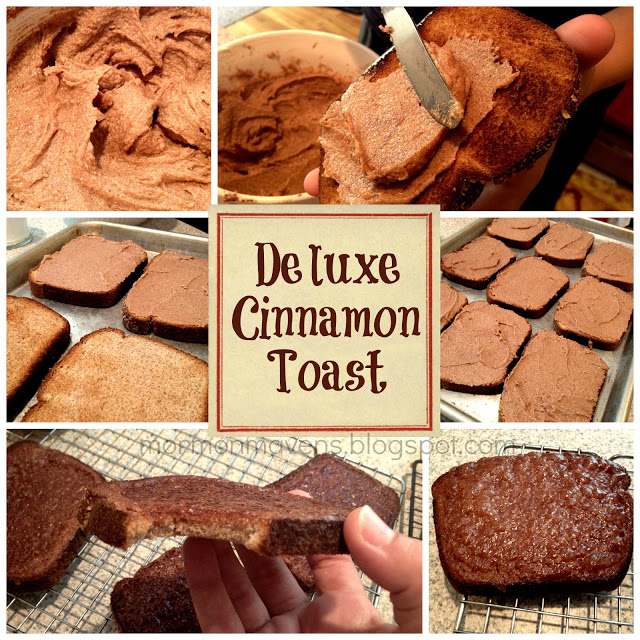 Ingredients:
16 slices of whole wheat bread
2 sticks of butter, softened
1 cup sugar
3 tsp. cinnamon
2 tsp. vanilla extract (optional)
1/8 tsp. nutmeg (optional)
1. Turn oven broiler on HI. Lightly toast the bread in a toaster. Set toast on baking sheet and let it cool.
2. With a fork, smush together the butter, sugar, and cinnamon in a bowl. It should be a thick mixture, like heavy frosting.
3. Spread a generous layer onto each toast piece. Broil until brown and bubbly (the exact browness will depend on your preference, but watch it carefully and move the pan around to get even browning. A chocolate brown topping will give a nice crunchiness).
4. Remove from oven and allow to cool enough for you to handle it and the bubbly top is no longer shiny.
Notes:
My daughter's pan of choice for this is our pizza pan that has tiny holes all in the bottom. This makes it crunchy from underneath and also changes the way the butter bubbles on the top.
You can use just about any bread you want. My daughter has tried several types and they have all worked.
If you soften your butter in the microwave, make sure that it doesn't melt. Melted butter will change the consistency of the final product.
You can adjust the spices to your liking.
Source: Pioneer Woman