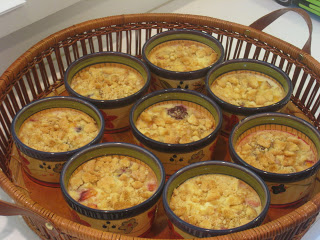 Makes 8 servings

Prep time 15 minutes
No nostalgic story to share here girls. Just plain good eats!
Premium ice cream gives the custard an extra-rich texture. but other brands can also be used in this recipe (I happened to already have some homemade cheesecake ice cream in the freezer so I used that. It had a very mild cheesecake flavor.) The addition of flour eliminates the need for a troublesome water bath.
1 1/2 cups fresh blackberries

1 1/2 cups peeled and chopped fresh peaches (about 2 large)

1 pt. premium vanilla ice cream, melted

1/4 cup all-purpose flour

3 large eggs, lightly beaten

1 (5.25 oz.) package sugar cookies, coarsely chopped
1. Preheat oven to 350. Divide blackberries and peaches between 8 lightly greased 6 oz. custard cups (about 1/3 cup per custard cup).
2. Pour melted ice cream into flour in a slow, steady stream, whisking constantly until smooth; whisk in eggs. Pour mixture over fruit in custard cups. Top with sugar cookies. Place custard cups on a 15 x 10 inch jelly-roll paln.
3. Bake at 350 for 20 to 25 minutes or un til custard is set. Cool on pan 40 minutes.
SOURCE: Southern Living Magazine June 2009