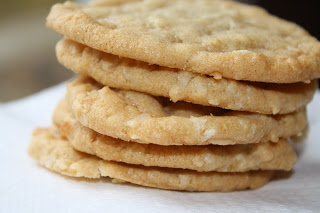 Here is a cookie recipe that I baked up this week, for a care package I sent home to my Dad for his birthday! He loves coconut pie, and so do I. These cookies taste just like a coconut pie!! They are super easy to make and delicous! Enjoy!
1-1/4 cups all-purpose flour
1/2 tsp. baking soda
1/4 tsp. salt
1/2 cup butter
1/2 cup packed brown sugar
1/2 cup white sugar
1 egg
1/2 tsp vanilla extract
1-1/3 cups flaked coconut
Preheat oven to 350 degrees. Combine the flour, baking soda, and salt; set aside.
In a medium bowl, cream the butter, brown sugar, and white sugar until smooth. Beat in the egg
and vanilla until light and fluffy. Gradually blend in the flour mixture, then mix in the coconut.
Drop by heaping teaspoon fulls onto an ungreased cookie sheet. Cookies should be about 3″ apart.
Bake for about 9 minutes and check them. They need to be lightly toasted. I cooked my batch of cookies for about 13 minutes. Take them out of the oven and let them set up on the baking sheet/stone for about 5 minutes. Transfer the cookies to wire racks and cool.