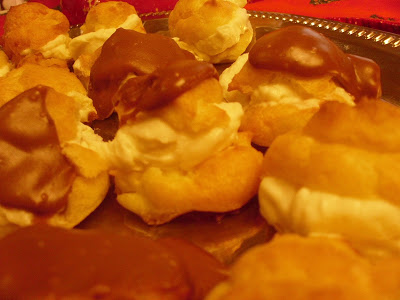 My Great Aunt Addie used to be famous for her cream puffs. This is her recipe. They are so fun to make with your family not to mention, yummy!
These are not just dots of puff! They can become many traditional or festive things. Don't let the list of steps fool you, these are easy peasy. They are good with savory fillings as an appetizer or finger sandwich. I've listed ideas for different "shapes" below the recipe. This doubles well.
Ingredients:
1/2 cup butter ( not margarine)
1 cup water
1 cup all-purpose flour
1/4 tsp salt
4 eggs
1. In a medium saucepan melt butter.
2. Add water and bring to a boil.
3. Add flour and salt all at once. Stir vigorously, cooking and stirring until mixture forms a ball that doesn't separate.
4. Remove from heat, cool slightly (about 5 minutes). Add eggs one at a time beating with a wooden spoon after each addition until smooth.
5. Drop batter by teaspoons or Tablespoons depending on the size you want (the batter will "puff" to around three times its size) onto ungreased baking sheet.
6. Bake in a 400 degree oven for 15-30 minutes (depending on size) until golden brown and puffy.
7. Remove from oven, let cool slightly on cooling rack.
8. Split open and remove any soft dough, fill with — Chicken Salad or other Savory spread, whipped cream, jam and cream, pie filling and cream, pudding, ice-cream or pudding custard .
9. For Eclairs: Frost filled puff with chocolate icing below:
Eclair Icing:
3 Tblsp butter
1/2 cup semi sweet chocolate chips or 1.5 oz bitter sweet chocolate
3 Tblsp half and half
1/4 tsp vanilla
3-4 cups powdered sugar
5 + Tblsp milk
1. Melt butter, choc. and half and half together in microwaveable bowl or medium saucepan
2. Remove from heat and add vanilla and powdered sugar
3. Add milk a few tablespoons at a time until desired consistency is reached. Mix until smooth and creamy.
Pudding Custard:
1 small box Vanilla (or your choice) instant pudding
2 cups whipped cream
1. Prepare pudding according to package directions except use 1/3 cup less milk
2. Mix ingredients together and chill for 20 minutes
Enjoy!
Shape Ideas:
1. Drop batter in the shape of mini footballs, frost with choc icing. Use white icing to make lines on the footballs
2. Drop batter in the shape of mini hearts or one large heart with a hole in the center (it will puff better). Fill with Cherry Pie filling and cream. Drizzle with chocolate and white icing.
3. Drop batter in the shape of Easter Eggs, ice with choc. icing. Use white or other color icing to write names on the egg.
4. Drop batter in the shape of Shamrocks, Flowers, Hats, Flags, Pumpkins, Christmas Trees, etc. Experiment – Have fun!
Source: Aunt Addie, My mom and Me