As a child I was not a fan of tomato soup. Well, thank goodness I got over that… because this soup is just too yummy. I was "introduced" to it at a church function last year, I enjoyed one (or two) bowls, and had the recipe in hand within 24 hours.
This recipe is so easy. It's one of my go-to "I forgot about dinner" recipes. You just dump, simmer, and you're done. (You may never go back to condensed soup after this)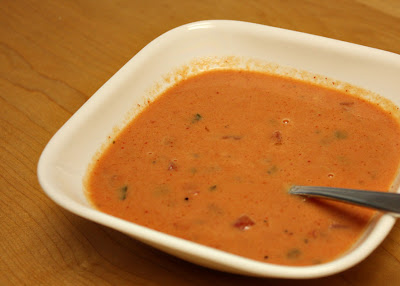 Creamy Tomato Soup
1 [28oz] + 1 [14.5oz]can of PETITE diced tomatoes (I usually get the Italian seasoned ones)
46 oz. can tomato juice
14 leaves fresh basil, diced
1 cup heavy whipping cream
1/2 cup butter salt and pepper to taste
1. Place tomatoes, juice, and basil in a stock pot over medium heat. Simmer for 30 minutes.
2. Puree the tomato mixture along with the basil leaves, with an immersion blender. (I don't puree it because I like my soup a little chunky.)
3. Place the pot over medium heat, and stir in the heavy cream and butter. Season with salt and pepper. Heat, stirring until the butter is melted. Do not boil.
*This recipe makes a lot of soup. I also think it would be a great dieter's recipe since the only fat in the whole recipe is from the cream and butter. I honestly think you could probably omit the butter and it would still taste fantastic. The soup also keeps well in the fridge and reheats nicely.