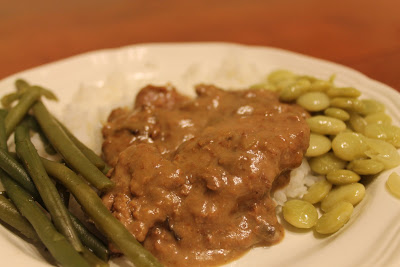 My aunt would make this and my uncle would rave about it. My mom finally got the "recipe" from her and it was delicious. This is one of my favorites on Sunday (is there anything more wonderful than lunch/dinner just waiting on you to get home from church?).
Crockpot Cubed Steak
desired number of cubed steaks
Lipton onion soup (approximately 1 package for every 4-5 steaks)
cream of mushroom soup (approximately 2 cans for every 4-5 steaks)
Your crockpot
1-Put the cubed steak in the crockpot
2-Pour onion soup mix on top of cubed steak
3-Cover with cream of mushroom soup.
4-Can turn crockpot on low or high-it just depends on how fast you want it ready.
We serve this with rice and usually sauteed green beans. It's a pretty easy recipe. It makes its own gravy and you just kind of "eye ball" how much of the soup mix and cream of mushroom soup you want.
Source: Patti Branham