I like to try and find ways to use more natural products, especially when they don't cost an arm and a leg. I found this shampoo recipe online and thought that, since I had most of the stuff already, it was worth a try. The Dr. Bronner's was already in my supply as well as the doTERRA Lavender oil. A quick check of the pantry produced the coconut milk so I was left just searching a store for Vitamin E oil. I figured this would be a tough search. I don't live in a small town, but we don't have a lot of access to natural products here. I figured that checking my local grocery store while on my regular grocery run would be an exercise in futility but I was pleasantly surprised. They had it in the personal care section! Score. I've been using this shampoo for a month or so now and I find it works well. The first time I tried it my hair hadn't been washed in a couple of days (I'm a daily washer normally) and it didn't get my hair fully clean. But for daily washing it is great.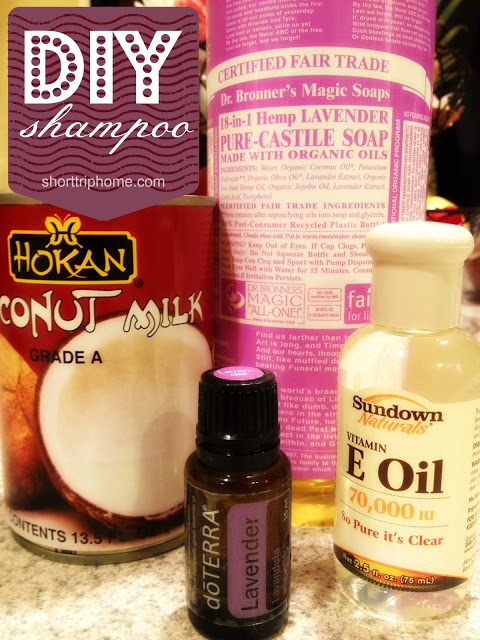 (this recipe is from my personal blog)
Ingredients
1/4 cup coconut milk
1/3 cup Dr. Bronner's soap
1/2 tsp. Vitamin E oil
20 drops doTERRA essential oil of your choice
optional: 1/2 tsp. olive or almond oil (for dry hair)
Instructions
Combine the ingredients together in a bowl and whisk well.
Use about 1 Tbsp. per wash, more if washing less often than once a day.
I stored my shampoo in one of those empty bottles you can get in the travel toiletries section at Target. Make a larger recipe and store in an old shampoo bottle. You can use any scent of Dr. Bronner's soap and of doTERRA essential oil. I used Lavender in both but next time I may try mixing scents, like Lavender and Peppermint. Or, my new favorite doTERRA oil blend, Citrus Bliss. Make sure to shake it up each time before you use it. I squirt about a tablespoon into my hand, rub in and lather, and quickly get my fingers going with the lather on my scalp. The lather has a tendency to "fade" quickly but I find that if I focus on my scalp first it's just fine.
To order doTERRA Certified Pure Therapeutic Grade Essential Oils, click here.