If you have never made bread before, this is a perfect place to start! This is such an easy, delicious bread! And really it's hard to mess it up! It makes fabulous garlic bread, French toast, delicious sandwiches and bread bowls! It will be a family favorite!


Easy French Bread
Ingredients:
Directions:
1. Mix all ingredients together and knead in a mixer (like a Bosch or Kitchen Aid) for 10 minutes. You can do it by hand with a bowl and spoon, but just add half of the flour at first and stir for a while until the "batter" seems smooth. Then add in more flour and mix until it gets too difficult to stir by spoon. Dump it out onto a floured surface and knead in the remaining of the flour. I actually do not ever exactly measure the flour. I know I have enough flour when the dough is no longer really sticky, but be careful to not add too much. You do not want the dough to be stiff or dry. A little less flour is better than too much!
2. Let the dough rise in the bowl until doubled. Punch down. (I usually cover the dough with a damp kitchen towel to keep it from drying out.)
3. Divide and form into 2 french loaves. (Or you can braid it!) Cut top of loaves three times with a serrated knife. You can also brush with beaten egg white and sprinkle with sesame seeds.
4. Let rise until double – 30 mins or so. Bake for 20 to 30 minutes at 400 °. (Shorter for a soft crust, longer for a thick and chewy crust.)
Notes:
*You can also put balls of this dough on a cookie sheet to make "Bread Bowls". Once baked, cut out center of round loaf and pour in a creamy soup. Make the Bread Bowls any size you want.
*People love to receive this as a gift, especially the braided bread below!
Here is how I form the loaves: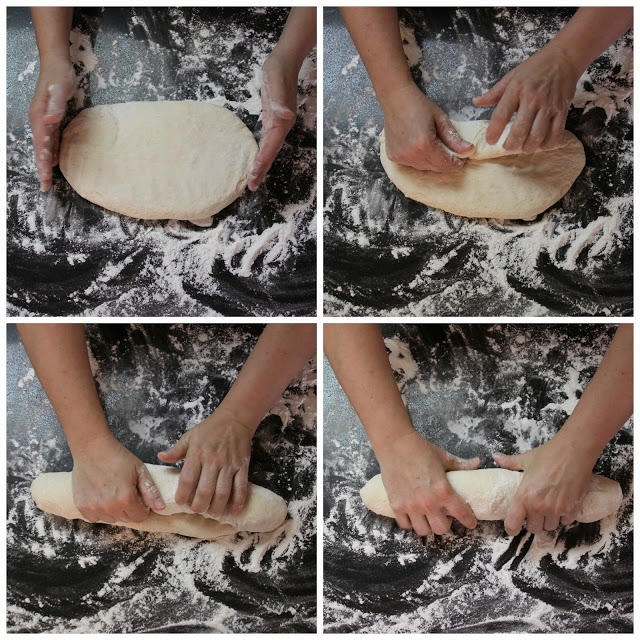 Then put it on a baking sheet and cut the top of the loaf, and let it rise.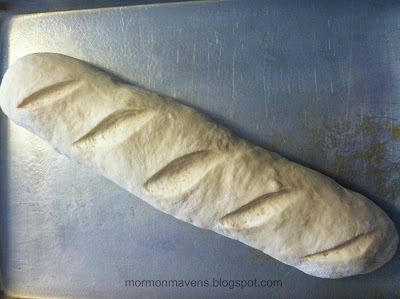 If you want to braid it, divide one half of the dough into 3 equal pieces, and roll out each piece with your hands into a long skinny "snake". Pinch the ends together, or start braiding it however you can. I often have to rebraid it because I get messed up a bit, like in the picture below. I eventually got it right. : ) Pinch the ends together and tuck them under and try to make it pretty. Even if it's not perfect, it will still look pretty and taste delicious!
I forgot about my bread that morning while I was homeschooling my children, and I let it rise a little too much. It got huge, but it was still gorgeous and delicious! You can spread a little butter on the top of the hot loaves when it comes out of the oven. ENJOY!!!