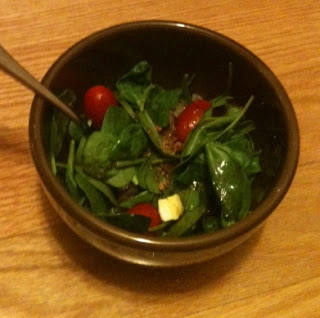 This is a delicious recipe. Be sure to allow enough time to chill the dressing for 30 minutes. You can either prep the eggs, bacon, and onion during the chilling time, or you can prepare them in advance so those portions of the salad will also be chilled once the salad is assembled.
Ingredients:
1/2 C vegetable oil (I use EVOO)
1/4 C red wine vinegar (I prefer balsamic vinegar)
3/4 tsp. salt
1/8 tsp. dried whole oregano
1/8 tsp. black pepper
1 lb. fresh spinach (I use the bagged, prewashed kind)
6-8 slices bacon, cooked and sliced (or you can buy precooked bacon crumbles or pieces, though I don't recommend bacon bits)
2 boiled eggs, peeled and diced
1 small red onion, sliced and separated into rings or chopped (I don't use the whole onion b/c it has such a strong flavor–just use as much as your taste-buds like)
grape or cherry tomatoes as desired
1. Combine oil, vinegar, salt, oregano, and pepper in a jar. (I have this awesome dressing emulsifier from
Williams Sonoma
.) Cover tightly and shake vigorously. Chill at least 30 minutes.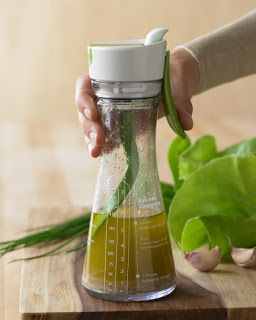 [Photo from Williams Sonoma]
2. Combine spinach, bacon, eggs, and onion in large bowl.
3. Add tomatoes to the salad. (You might choose to halve them for easy stabbing.) I don't toss the salad because doing so causes the toppings to collect at the bottom.
4. If you have a dressing dispenser, I recommend keeping the dressing in it and adding the dressing to the individual servings (rather than tossing the salad with the dressing until it's well coated) because the salad shrinks dramatically once the dressing is added. You can imagine how soggy your leftovers will be if you add it all at once. If you don't have a dressing dispenser, you can use something with a spout, like a liquid measuring cup, and just whisk the dressing with a fork as needed.
Makes 8 servings.
Source: Brew Family Cookbook (Tomatoes aren't part of the original recipe; I add them for color and flavor.)