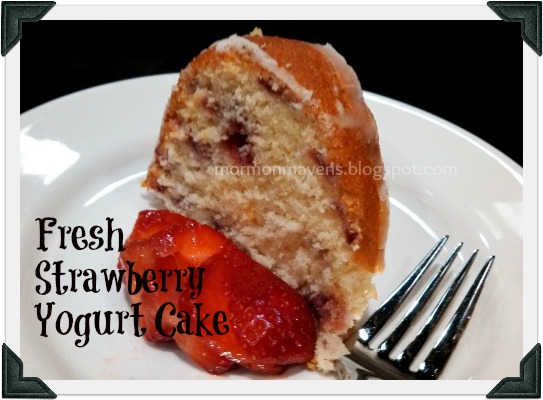 I found this recipe on Pinterest and thought it looked yummy. I was correct. My cake, however, did not look as pretty as the one I re-pinned. I need to find out how she baked her cake without it browning on the outside. Either way, it tastes great. If you like the recipe and try it yourself and can get a "blonde" cake like the one I am talking about, please let me know how you pulled that off.
Ingredients:
1 cup butter, softened
2 cups sugar
3 eggs
3 T. lemon juice, divided
Zest of 1 lemon
2 1/2 cups all-purpose flour, divided
1/2 t. baking soda
1/2 t. salt
8 oz. plain or vanilla Greek yogurt (I used vanilla)
12 oz. fresh strawberries, diced
1 cup powdered sugar

1. Preheat oven to 325 F. Grease and flour a 10-inch Bundt pan (10-15 cup)–I used baking spray that includes flour because it gets better coverage in all those little creases in the Bundt pan.
2. Sift together 2 1/4 cups of the flour along with the baking soda and the salt. Mix in the lemon zest and set aside.

3. With an electric mixer, cream the butter and sugar together until light and fluffy. Beat in the eggs one at a time, then stir in 1 T. of the lemon juice.

4. Alternate beating in the flour mixture and the yogurt, mixing until just incorporated.

5. Toss the strawberries with the remaining 1/4 cup of flour. Gently mix them into the batter.

6. Pour the batter into the pan. Bake for 60 minutes, or until a toothpick inserted into the center comes out clean.

7. Allow the cake to cool at least 20 minutes in the pan–I would go 30-35 minutes. Turn out onto a wire rack and cool completely. Whisk together the remaining lemon juice and 1 cup powdered sugar and drizzle over cake.





Source: Baking With Blondie, who sites a re-pin from A Spicy Perspective.