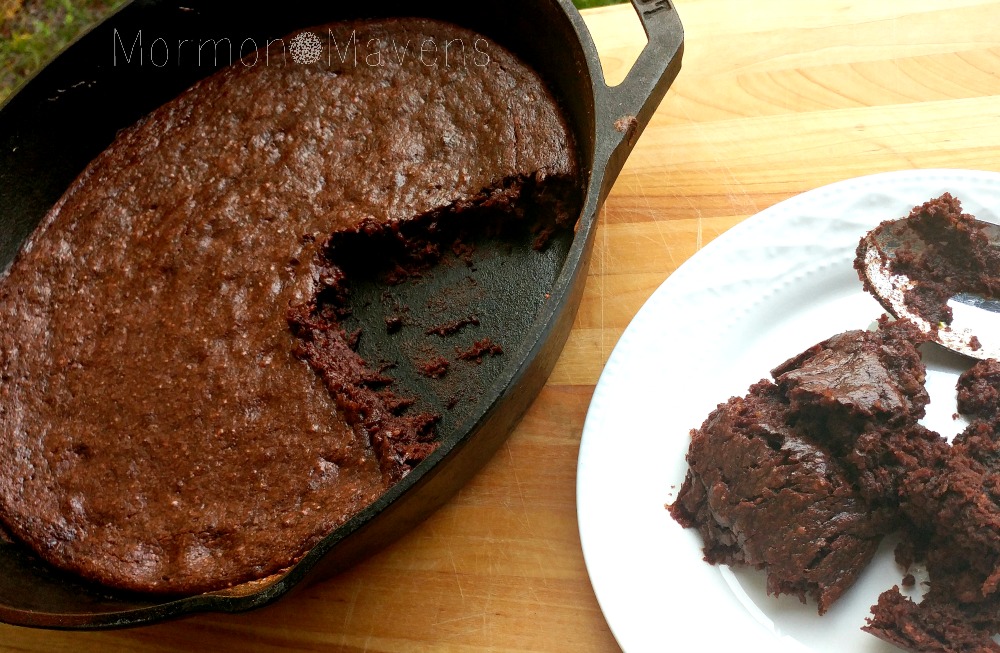 I gotta put a disclaimer on this one.
You may not like this.
No, don't run away! Just hear me out for a little bit.
It's Vegan.
It's Paleo.
Okay, if you are a die-hard, flour-filled cake lover you can run now. (Honestly, my kids did, but they don't have the evolved taste buds that I do.)
Here's my situation: I have Leaky Gut. And while I do make stuff for the family that has wheat and dairy (two foods I'm not supposed to have anymore) I do try an occasional alternative recipe in an attempt to find treats that might be "legal" for me. And I've found that you have to make a taste adjustment most of the time–that's something I've started to get used to.
So I actually like this recipe!
What does it have going for it–besides being wheat and dairy free?
It mixes up IN the skillet. Less dishes.
It's ready pretty quickly. Cravings kept at bay while it bakes.
It uses ingredients I already have on hand. Yes!
It's rich and fudgy. Oh, yesssssss!
Is it my favorite cake in the world? No. That'd be one o' them there flour-filled cakes of my yesteryear. <sigh>
But I think it does fit the bill if you are someone who has to or wants to eat treats without grains or animal products and want something rich and chocolate-y.
I would recommend adding some dairy-free ice cream or whipped topping when serving, though. It just needs a little creamy loveliness to balance out the fudgy!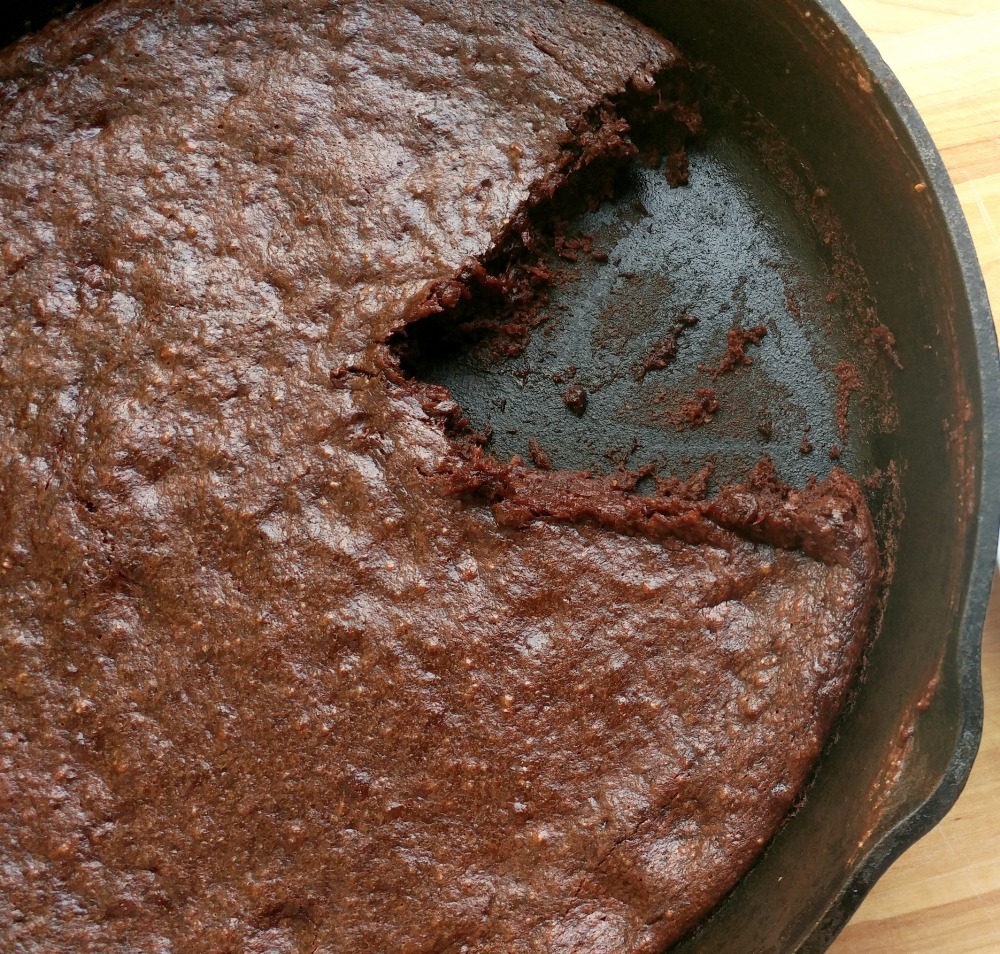 Fudgy Banana Skillet Cake
2016-09-06 11:44:06
A fudgy flourless, vegan "cake".
Ingredients
1/4 cup coconut oil
1/2 cup unsweetened cocoa powder
1 cup mashed banana (I used 3 small bananas)
1/4 cup pure maple syrup
1 cup almond butter
1/2 tsp. baking powder
1/4 tsp. salt
1 tsp. vanilla
Instructions
Preheat oven to 325 degrees.
In a large cast iron skillet set over low heat, melt the coconut oil completely.
Turn off burner and add remaining ingredients, whisking well to combine.
Run a rubber spatula around the edge of the skillet to get the batter down with the rest of the ingredients.
Bake for 15-20 minutes or until the center is mostly set.
Notes
It should be pretty moist still so don't bake it until a knife comes out clean--that's too done. It took 20 minutes in my oven. Cast iron retains heat well, so this will continue to cook a little when you take it out of the oven.
Serve with ice cream or whipped topping (dairy or not--you decide).
Adapted from Happy Healthy Mama
Mormon Mavens https://www.mormonmavens.com/